…a long read by Bikash Mohapatra
The only major medal missing from the Dane's otherwise impressive resume is an Olympic gold.
In their bid to stop the former world No.1 from winning the Chinese also denied one of their absolute legends a fair attempt at the title.
Camilla Martin's success story makes for a interesting read not only because she won a clutch of individual honors but also because she regularly emerged triumphant in her many battles against a multitude of Chinese opponents.
While the Dane's repertoire is replete with gold medal winning efforts in Denmark, England, Hong Kong, Indonesia, Japan, Korea and most importantly, the 1999 World Championships, it would have been complete set of major individual titles had she not missed out at the Olympics.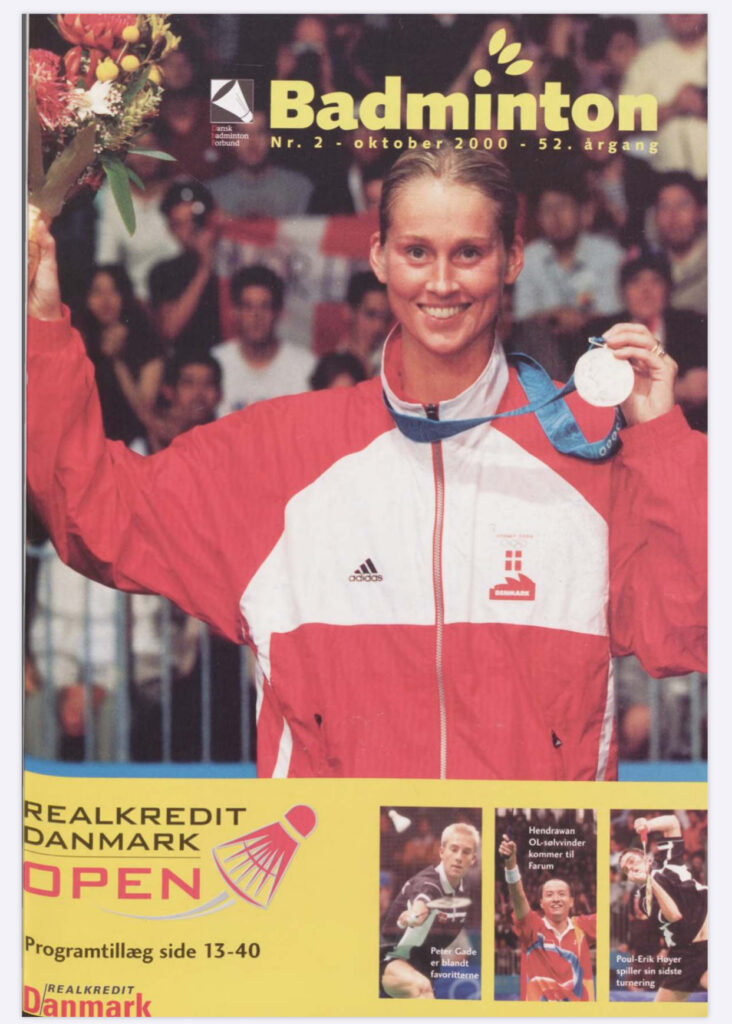 That said, Martin's silver medal at the Sydney Olympics in 2000 is as much about her failure to seize the advantage and make the opportunity count as it is about the Chinese plot deny her the gold medal. In Martin's own words much of her career was like being "alone with the Chinese army".
Conversely, the Chinese were aware there was only one player they had to take care of to ensure domination in the women's singles category of any major competition.
Back in 2000 China aspired for global recognition, and sports happened to be the easiest way to get that. Be it the desire to host major international competitions or attempting to increase their medal tally in every subsequent edition there was a sense of desperation.
And desperate times call for desperate measures.
For instance, the controversies surrounding coach Ma Junren, and his army of middle and long distance female runners that won major competitions with record-breaking timings in the 1990s, has been well documented. Among the 27 athletes who failed blood tests and were consequently dropped from the Chinese contingent for the Sydney Games, six were trained by the eminent coach.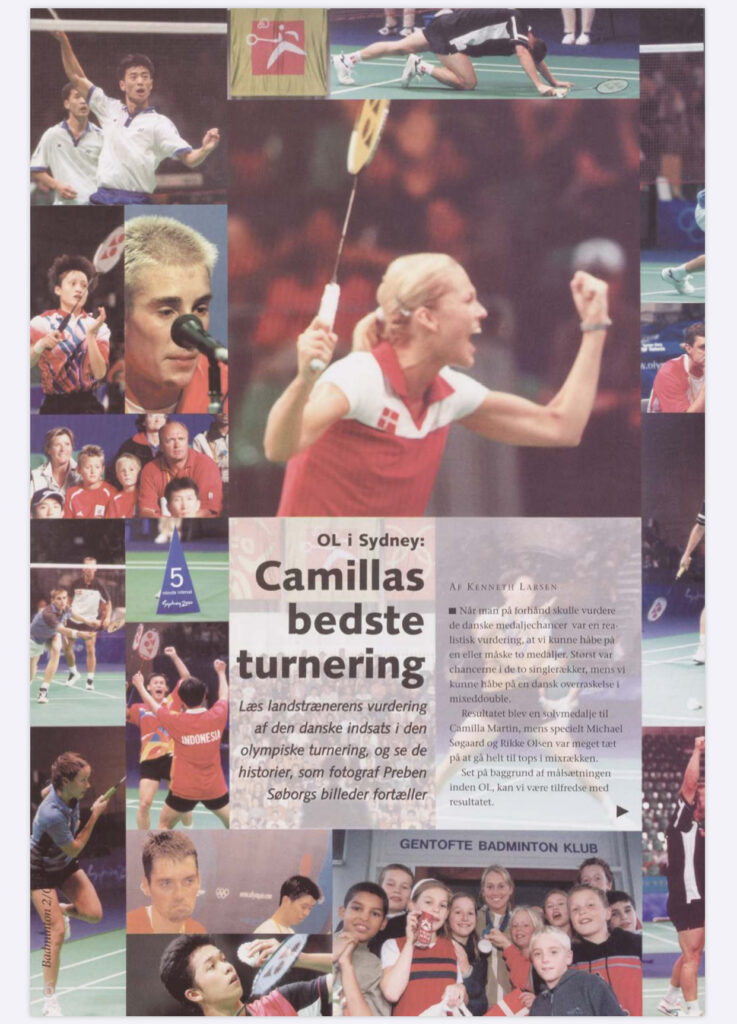 While Ma's training methods were questioned and dope allegations continue to haunt his athletes, it cannot be denied that there was a period of success. In that regard the coach had succeeded. He had put China on the athletics map.
Like Ma, Li Yongbo – China's badminton coach, had a task at hand. Even though badminton made its debut as a medal sport in the 1992 Barcelona Games, coming into the badminton competition in Sydney, there was not much success the Chinese could boast of. The country hadn't won a gold medal in the singles category in the previous two Olympics. The women's doubles success in Atlanta was their solitary gold medal.
That Ge Fei and Gu Jun were back to defend their title in Sydney assured Li of a gold medal – and they didn't disappoint. He had to focus on singles though. To begin with China's challenge in the men's singles category did little to enthuse. Ji Xinpeng was not quite the big name and even though Xia Xuanze had won the prestigious All England title that year, he was just starting out. That Ji surprised all, probably himself as well, in beating established names like Taufik Hidayat, Peter Gade and Hendrawan en route to the gold is another matter altogether.
However, at the time Li would have been forgiven to put his bet on the women's singles players. Ye Zhaoying is a two-time world champion, and a four-time Asian champion. Gong Zhichao was the reigning All England champion. Dai Yun had made it to final of the World Championships the year before, and was also a two-time All England finalist.
The three players basically had one job at hand, to get the better of Camilla Martin, the reigning world champion.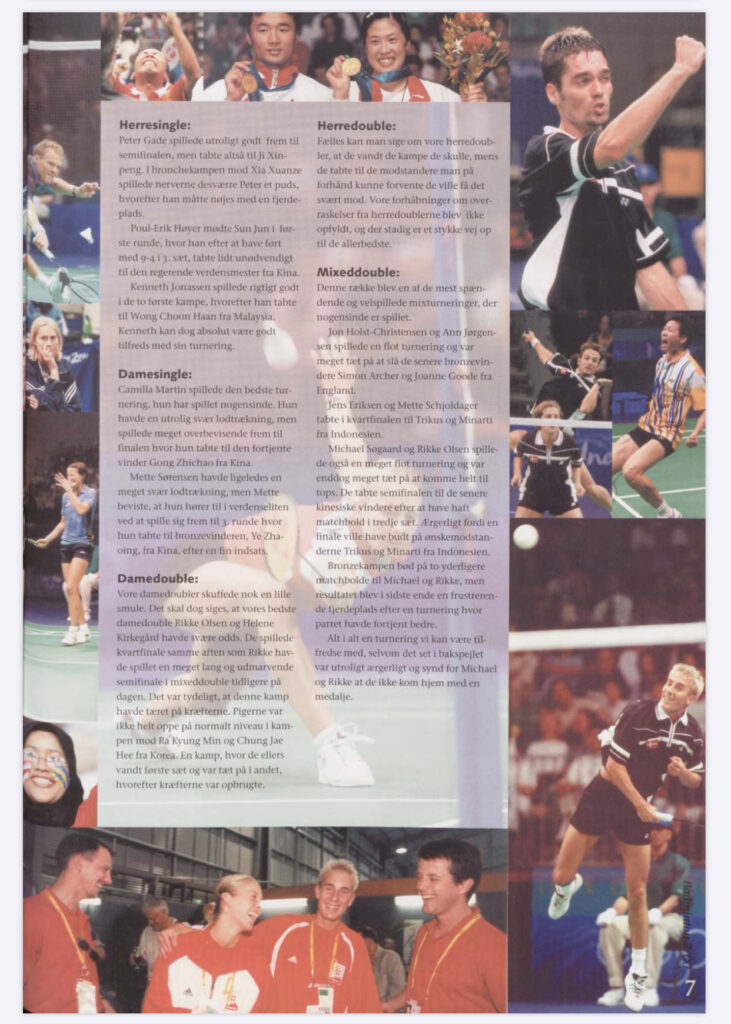 The in-form Dane had won big ticket tournaments in Indonesia and Korea that year, and had justified her pre-tournament favorite status with a straightforward run to the final, not dropping a set en route. Among her wins was an 11-5, 11-0 demolition of Dai in the semi-finals. It was a result that didn't surprise the Chinese think tank. They were certain Martin would ease past Dai.
The other semi-final was an all-Chinese affair with Gong taking on Ye.
Gong was the top seed alright, but it was not that her opponent didn't know how to beat her. In fact Hangzhou-born Ye had accounted for Gong in the 1997 World Championships final in Glasgow, and ended up with a 9-3 career advantage.
To say Ye's form was questionable would be a dicey proposition. The former world No.1 had had a superlative 1999, winning four titles including the All England and the year-end Grand Prix Finals.
Also, it wasn't that Ye couldn't have beaten Martin – she had a 6-3 career record over the Dane.
However, all three of those Martin's wins had come in tournament finals. And this fact was enough to create doubt in the Chinese minds.
During the course of the competition the Chinese think tank had had many rounds of discussions and pre-match planning. Ahead of that all-Chinese semi-final the results of both the players in both 1998 and 1999, and their record against Martin, were also analyzed. The Dane had never beaten Gong before.
Besides, what was not overlooked was the fact that if that semi-final went the distance the eventual finalist would still be exhausted, and that exhaustion could be an important factor in the decider. The stakes were palpably high. The Chinese wanted to be absolutely sure, and couldn't take a chance. So Li asked Yeto go easy, allowing Gong to win 11-8, 11-8.
The team decision was not just controversial but also against the spirit of the Games. That said when doubt and insecurity reign supreme attributes like sanity and vanity are shoved into the backburner.
"When you two played in the semi-finals, you must be exhausted. No matter who wins, it will be a waste of the next day's finals. There is no need to consume this energy. I don't want to pretend, I fired the World Champion, ordered Ye Zhaoying to lose" Li Yongbo was quoted as saying in the media later. The national coach further justified his decision as one taken in national interest.
"I do not agree with the idea of match fixing because someone must get hurt and nobody likes to do that. But in China, our ultimate goal is the national interest. Country always comes first and we have finally made up the decision on the match between Ye and Gong, i.e. Ye to lose. If Gong won in the final against Camilla, Ye would have the same benefits of an Olympic champion had. At first Ye was crying but she finally respected the team and agreed to lose to Gong," he reasoned. The Chinese ended up securing their first singles gold medal at the Olympics.
Gong beat the second seeded Martin 13-10, 11-3. It was the last instance the two faced each other, Gong winning all three of the encounters. However, the Olympic result left a bad taste for all the parties involved. Martin got to play a pre-decided opponent. Besides, Li's decision was not fair for either Ye or Gong. While the former lost out on the chance to add the Olympic gold medal to her two world titles, the latter's biggest career success will for posterity remain shrouded in controversy. Ye called it quits immediately after and later admitted she didn't throw the match voluntarily, accusing Li of denying her a shot at gold.
More recently, former Asian champion Zhou Mi accused Li of asking her to deliberately lose her semi-final to eventual gold medalist Zhang Ning. Of course, it was again in national interest.
"The coach gave me instructions, 'we must put the honour of the country first'. I have never considered personal interests too much. Of course, I felt wronged in my heart," Zhou said. The Chinese coach suffered somewhat, when during the London Games in 2012, his players (Wang Xiaoli and Yu Yang) were banned from the women's doubles category after throwing their match against South Korea, in order to avoid playing another Chinese team in the knockout phase.
His controversial decisions, in national interest of course, made Li a very successful coach no doubt, but the success he achieved is anything but sweet.