©2020 Amanda Bloss All Rights Reserved
Womensbadminton.co.uk
The arena in Birmingham awaits. The stage is set for badminton royalty to remind fans why they dominate world badminton. A Super 1000 tournament is the ultimate test and a Super 1000 title is the sign of sporting magnificence.
Men's Doubles
Will anyone be able to stop the Minion's progress to the title? Indonesian men's doubles is the finest in the world but that doesn't mean the path to the podium is painless.
Kevin Sukamuljo & Marcus Gideon – were last year's beaten finalists and are top seeds. The key question is whether or not they can overcome the sort of strategies Yuta & Endo used against them in the final last year – have they been able to add those couple of extra percentage points to their performance to grab the gold? It is vital that they are focused from the minute they step on court in R1 because there are some outstanding rivals ready to eliminate them. If they get to the QF it's possible they may meet the talented Indian pair Rankireddy/Shetty or the recent Swiss Open champions Astrup/Rasmussen. Both of these can defend a barrage of flat, aggressive shots so a crucial asset for the Minions is going to be patience, and to be confident in the breadth of their attack. Prediction: Final – they will rock the All England together!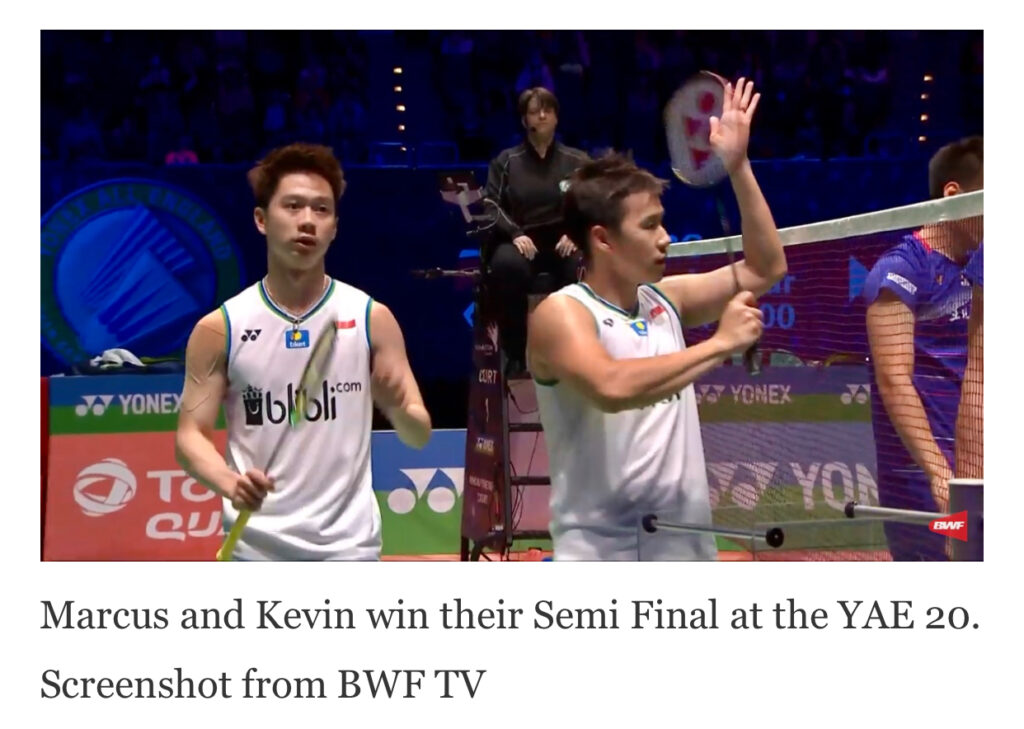 Takeshi Kamura & Keigo Sonoda are Japan's highest seeds at 3. Kamura has great vision and anticipation with shuttle hunting at the core of his game. Sonoda is the steadfast partner who backs him up and feeds off what he creates. They are the epitome of "fast and furious" with rowdy shouting and a brawny, dynamic approach. They never run out of energy but their head-to-head record against the Minions is quite weak so if they face each other over the net on the Saturday all the stats point to an Indonesian win. Prediction: Semi Final
Hiroyuki Endo/Yuta Watanabe: I adore Yuta's swashbuckling style and he is nicely balanced by Endo's steadier approach. It's a rare player who can match Kevin Sukamuljo's net play but Yuta is not intimidated by the Indonesian's blistering reactions and can hold his own. Last year's champions have every chance of defending their title but as they are 'only' seeded 4 they are not going to get an easy passage to the final. It seems extraordinary to me that Yuta has a realistic chance of winning XD as well; surely there must come a point where his stamina is diluted?
Hendra Setiawan & Mohammad Ahsan: these two badminton heroes keep playing at the highest level and digging out results in taxing games. Hendra's skills belong to a different dimension when he is at the net, and he brings such control and determination to his matches. They did play well in Thailand but were not able to stop Lee/Wang's hat-trick of titles; in the final of the WTF they were simply overwhelmed by the Taiwanese players high speed muscular approach. They are seeded 2 and I never ever write them off. Prediction SF.
Fajar Alfian & Muhammad Rian Ardianto. I'm not sure what to expect from the fifth seeds. I didn't feel that they hit their stride in Thailand but when these two are at their best the combination of Ardianto's crisp smashes and Alfian's control of the net is exhilarating. It's crucial that they find their competitive groove quickly, their rhythm in Thailand was too stuttery and they used a lot of energy chasing points rather than dictating games. Its feasible that they could meet the Dads at the QF stage and they will not be the favourites to win that game.
Mixed Doubles
There are exciting athletes in XD at the moment. I'm intrigued to watch the new unseeded pairing of Olympic Gold Medallist Misaki Matsutomo with Yuki Kaneko. When TakaMatsu broke up last year, Misaki switched disciplines from WD to XD in a bid to get a spot at the Tokyo games. I don't think they can expect to get beyond a Quarter Final but she is a competitor from the top draw and her fans would love to enjoy watching a good run in this tournament. It feels as though this is a competition ready to be won by someone unexpected, especially as Bass/Popor have decided not to compete. I can't lie, I would adore it if they over-achieved.
Praveen Jordan & Melati Daeva Oktavianti. Seeded 1 and the defending champions – PraMel are sharp-witted and shrewd players. Jordan always looks so strong and menacing; no one has a smash as hard as him. If he is in the right frame of mind he can ride the momentum of a game and annihilate opponents. Melati needs him to be focused and fit so she can concentrate on her own role. He has had an injury but is reportedly back to full training so the mission to retain their title is feasible.
Yuta Watanabe and Arisa Higashino: Yuta is not necessarily the most powerful player but he makes up for that with his anticipation and creativity. It's incredible that he has the stamina to compete at the highest level in two disciplines. I like the partnership with Arisa because of her strength, when they find their positions reversed Yuta can rely on her to defend the back as he rules the front. This brings an extra dimension to their attack and can really turn the tide in their favour in a game. They are seeded 2 and I can't really see who can stop their progress to a medal.
CHAN Peng Soon & GOH LIU Ying are the Rio silver medallists and should be looking at this competition as a good opportunity to win a title. I think they must start brightly to try and build self-confidence before the possibility of a QF against Thom and Delphine. They can get to the semi-final so long as they don't get overwhelmed by the ebullient French pair.
Thom & Delphine: These two are being touted as the future of European XD and possible gold medallists at the Paris Olympics. For now, they are just at the start of their journey but they are a confident duo who like to dominate and dictate the momentum of a match. They are a stylish pair to watch, creative, zesty and always looking for gaps, especially out wide. The intensity and quality of the competition they will face here is a step up from the Swiss Open but it is intriguing to measure them against some of the best in the world. Prediction QF
Women's Doubles
FukuHiro are top seeds and defending champions – they seem to have added a sprinkle of something extra to their game over the past year. I think they have given themselves permission to be more than good. In Denmark back in October Yuki Fukushima's energy and desire propelled them on to the title. Hirota's swiftness of body and mind, her precision and anticipation screw down the pressure on opponents. If they bring the same aggression and accuracy to Birmingham the pair will be unstoppable. Prediction: Final
Nagahara & Matsumoto are often regarded as the Japanese pair with the most creative spark and aggression. Matsumoto can unleash some brutal smashes and together they are a partnership that routinely wins big events. Their rivalry with their compatriots will be an extra motivation especially after their defeat in the final at October's Danish Open. They failed to neutralise the influence of Fukushima and that was the decisive difference between them. Prediction: Final
Greysia Polii and Apriyani Rahayu: So, this looks like the last time Greysia will play at the All England and I'm sorry I can't be there in person to cheer for one of my favourite players. GreyAp competed fearlessly in January's matches in Thailand and their triumph at the Yonex Thailand Open was a well-deserved, emotional victory. I would love to see them on the podium here but I think the top seeds may just have a little bit extra over them. Prediction: My heart says final but my head says Quarter Final. Good luck girls!
Jongkolphan Kititharakul & Rawinda Prajonjai can be a quick aggressive pair and are capable of despatching lower seeds without too much fuss but their head-to-head stats against the established Japanese players suggest that they are going to struggle to progress much further than a QF. Their R1 game against Tan & Thinaah could be an awkward encounter.
Pearly TAN & THINAAH Muralitharan have a really tough draw because they are unseeded, but since playing in Thailand they have impressed everyone. They possess winnability and seem to be able to squeak a result even when they are up against more experienced opposition. Their victory in the final of the Swiss Open against the Stoeva sisters was a good illustration of their desire; they played to win, not just to defend and they reaped the reward. These two young Malaysians could be some stars in the making.
The doubles competitions in Birmingham are fascinating this year because so many of the top seeds have been absent from the international tour for a year or so. Their challenge is to adapt to quarantine protocols quickly so they can compete at the levels of intensity and focus we expect. There's no doubt that the people who get to grips with the new procedures will be at an advantage. The saying goes that 'when the sun comes out it dulls the other stars', I'm very curious to see what the overall standard of play is. Will the athletes who have been missing now blaze a trail to the trophies despite their lack of match practice? or will they discover that while they've been away their European rivals have upped their levels?
---
If you enjoyed this read my review of last year's tournament
---
©2020 Amanda Bloss All Rights Reserved