By K. Pronnoy
"Badminton is one of the fastest sports in the world, requiring quick reflexes and superb conditioning.
Like every other sport, some fascinating facts about badminton will definitely shock you.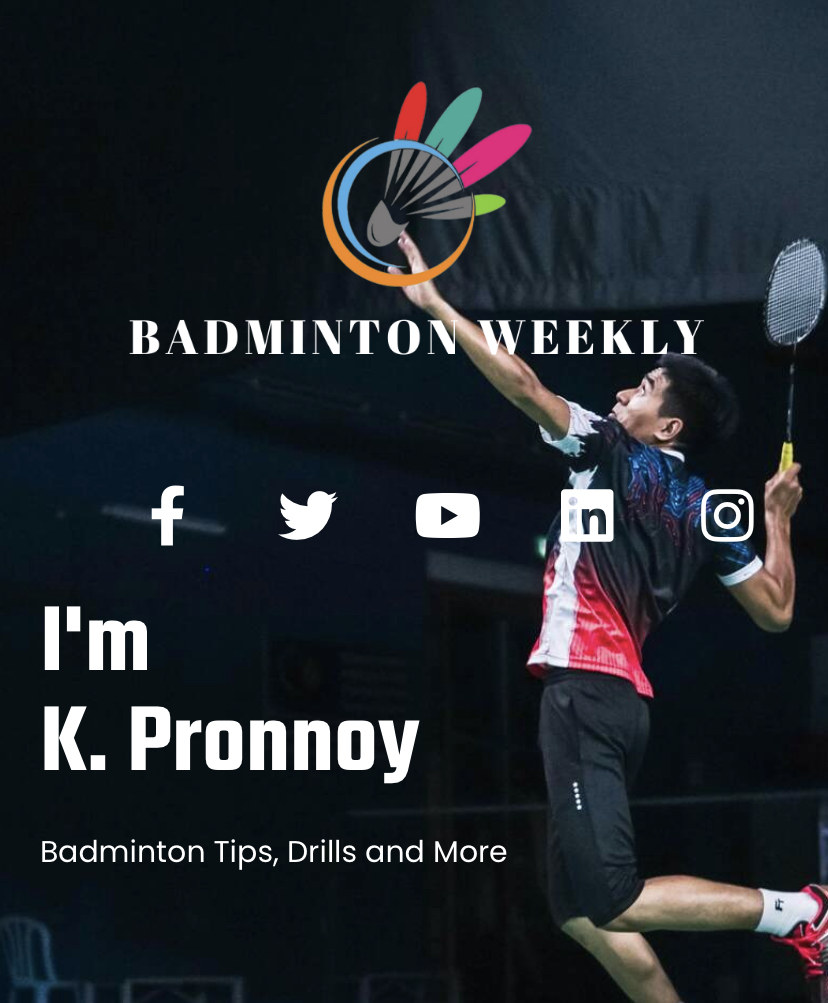 And now, let me introduce you to some of these amazing facts:
1. Badminton is the 2nd most popular sport in the world
According to the research and articles, it is clear that badminton is the second most popular sport in the world, after football.
It is played regularly by an estimated 220 million people worldwide.
This sport is trendy in Asia, and many of the best players belong from this continent.
When this sport was first introduced at the Olympics in 1992, approximately 1.1 billion people watched the competition on television.
2. The Asian domination of the sport
Since badminton was introduced to Olympics in 1992, Asian players have won 93 Olympic medals out of 103.
China and Indonesia are the top badminton countries worldwide, winning 70% of the BWF events and championships.
Coming to the Tomas cup, the Men's world team Championship, then to date, it has been won by only three Asian countries: Malaysia, Indonesia, and China.
Whereas Uber Cup, the women's world team championship, is commonly won by Asian countries, including China, Indonesia, Japan, and South Korea.
And the USA is the only non-Asian country to win Uber Cup in 1957, 1960, and 1963.
3. The shortest and longest badminton match
You will be shocked when you know that the shortest badminton match was held in Hong Kong in the 1996 Uber Cup.
It only lasted for six minutes, when a South Korean player Ra-Kyung-min defeated an England player, Julia Mann.
And on the other hand, the longest match in history was recorded during the semi-final at the 2016 Asian Championships.
The match lasted for approx (161 minutes), 2 hours and 41 minutes.
4. A shuttlecock is made from the left wing of a goose.
Shuttlecocks are high-drag projectile that holds an open conical shape.
These shuttlecocks are usually made up of left-wing goose feathers, and these feathers are embedded around a cork or rubber base.
It is so because of aerodynamics, as the left-wing spins clockwise, whereas the right-wing spins counterclockwise.
For a stable flight, shuttlecocks should have feathers that spin clockwise, while the right-wing feathers are undesirable.
Therefore, all shuttlecock feathers use only feathers from the left wing.
5. The strings of the badminton racket are made from animal guts.
Do you know that years ago, when synthetic racket strings were not introduced, players used to string their racket with animal gut (A thin, tough cord made from the intestines of animals, usually sheep, cats, or pigs)?
Still, some players use these strings to provide better repulsion and stability than synthetic strings.
6. Badminton was initially played with the player's feet.
The sport Ti Zan Ji originated in China, which is the forerunner of badminton.
In this sport, players use their feet instead of a racket to hit the shuttlecock, which is slightly different from the normal shuttlecock.
And the exciting part is that this sport is still played in some parts of China.
7. Badminton is a lot more intense sport compared to tennis.
Usually, tennis matches last longer than badminton matches, but one badminton match is much more intense than a tennis match.
The match intensity, no of rallies, no. of shots, shots per rally, and distance covered are statistically higher in a game of badminton.
8. Badminton was originated in India
This sport has a long history and was invented at least two thousand years ago.
It is said that this sport originated in Pune, India and therefore was named "Poona".
This sport originated from the ancient game "Battledore and Shuttlecock", played by children in India.
But later, in the 1860s, this sport was adopted by British officers stationed in India.
In 1887, the duke of Beaufort took this sport to England from India, and this sport got its name after the Duke of Beaufort's House in Gloucestershire, where it was played for the first time.
9. Highest Jump Smash
An Indonesian player, Liem Swie King, was famous for his jump smash.
He was one of the first players who introduced jump smashes to the International Circuit.
He achieved a height of 1 meter while executing a jump smash, one of the highest jumps recorded in badminton history.
10. Longest rally in badminton
The longest rally in history was recorded in 2015,
It was recorded in the match, which was held between Naoko Fukuman/Kurumi Yonao and Poon Lok Yan/Tse Ying Suet ended after 256 shots, which took 4.5 minutes.
Final Words
These were some of the top amazing facts about badminton.
And I hope you enjoyed reading some of these amazing facts about one of the fastest sports in the world.
K. Pronnoy
Badminton Weekly"