BWF World Junior Mixed Team Championships 2022 starter i morgen, mandag den 17. oktober og afvikles frem til den 22. oktober.
Herefter spilles de individuelle verdensmesterskaber for "Juniorer"!
Det foregår i Santander, Spanien.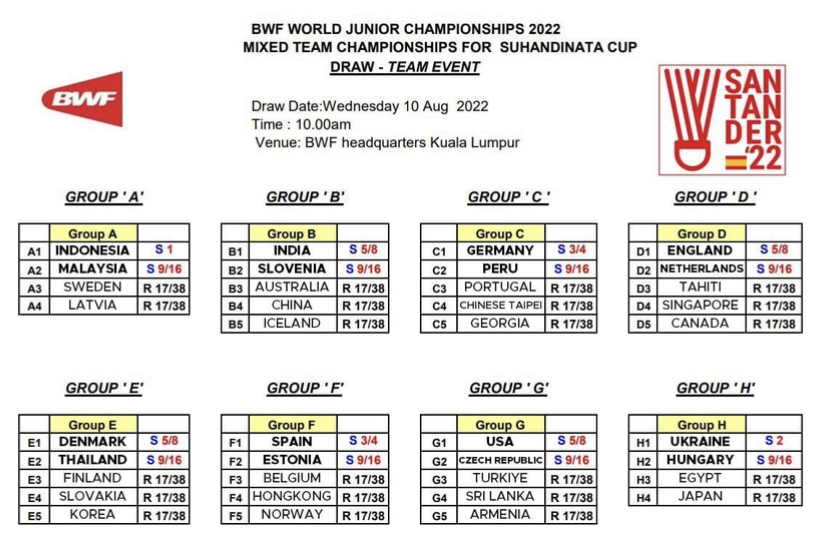 Den 10. august blev der på Twitter skrevet om puljerne til "Mixed Team" konkurrencen. Se foto. Danmark er kommet i en meget vanskelig pulje.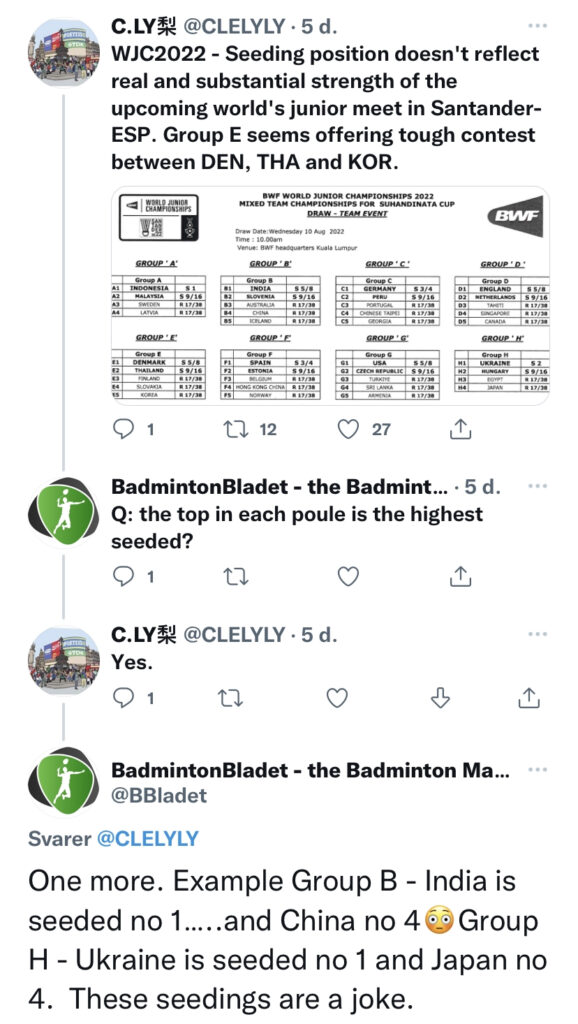 "WJC2022 – Seeding position doesn't reflect real and substantial strength of the upcoming world's junior meet in Santander-ESP. Group E seems offering tough contest between DEN, THA and KOR." @CLELYLY
"One more. Example Group B – India is seeded no 1…..and China no 4😳Group H – Ukraine is seeded no 1 and Japan no 4. These seedings are a joke." @Badmintonbladet
Seedningerne er en vittighed!
Link til holdturnerings konkurrencen:
https://www.tournamentsoftware.com/sport/matches.aspx?id=58E5D7FA-7052-4063-B200-02AAC5F7B441&d=20221017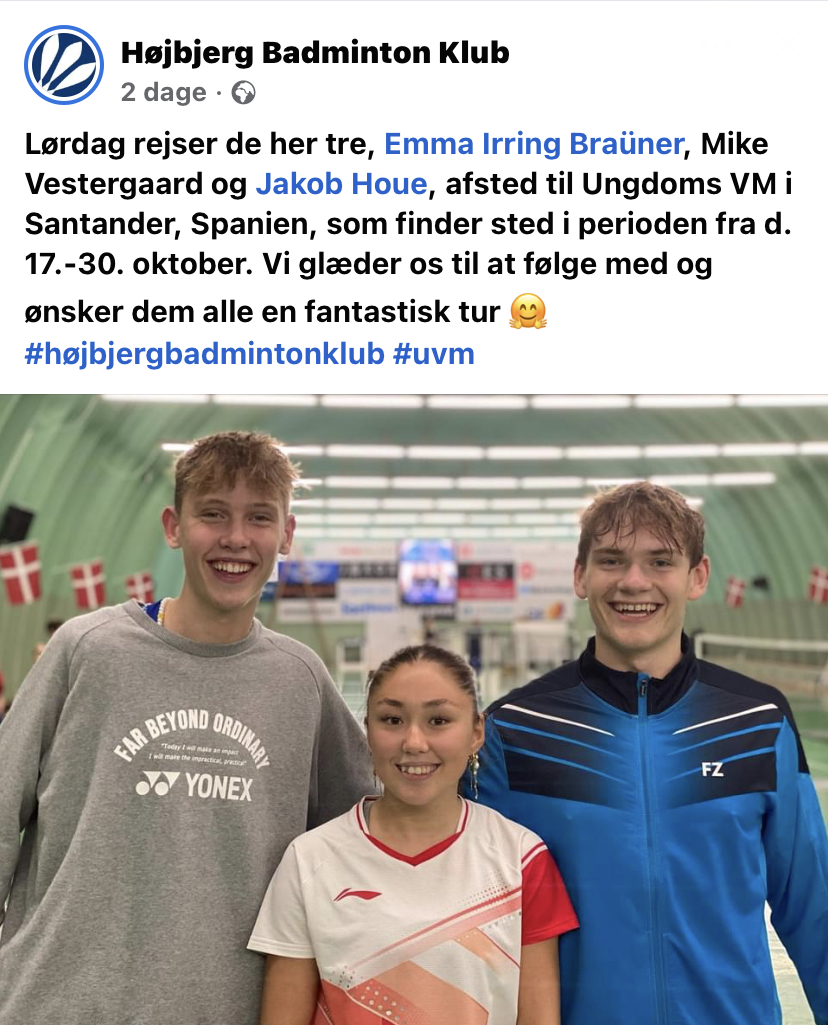 BWF: "THE WORLD JUNIORS: A WINDOW INTO THE FUTURE
One of the most striking features of the BWF World Junior Championships is that it has always been a reliable indicator of talent and a predictor of how the top juniors perform when they cross over into senior ranks.
Right from its first edition in 1992, when players like Sun Jun, Gu Jun and Han Jingna emerged winners, the World Junior Championships has provided a window into the future. Sun Jun would win the senior world title in men's singles seven years later, while Gu Jun would go on to become one of the legends of women's doubles, winning two Olympic gold and two World Championships titles in the company of fellow-great Ge Fei.
Since then, a number of World Junior winners have gone on to achieve acclaim in the seniors.
The trend has become stronger over the years. If the 1990s saw a few 'drop-outs' – that is, those without particularly impressive senior careers, by the 2000s there was a marked difference. The possibility of junior champions transitioning successfully became higher, and in recent years, it's almost a given that junior champions are going to be competitive at the senior level. Quite impressively, the transition has appeared to quicken in recent years. The most recent example is that of three-time world junior champion Kunlavut Vitidsarn, who, at 21, finished runner-up at the BWF World Championships. His contemporaries, such as Lakshya Sen, Christo Popov, Leo Rolly Carnando and Daniel Marthin, are already well-known names on the senior circuit.
The junior winners apart, the other top contenders too usually transition into successful senior players. In 2010, for instance, the year Viktor Axelsen won the junior title, semifinalists included HS Prannoy and Sai Praneeth. In 2011, the girls' singles semifinals had, apart from winner Ratchanok Intanon, Carolina Marin and Nozomi Okuhara.
While it is apparent that there's a high correlation between junior and senior success, earlier specialisation too has set in. The World Juniors of the 1990s had some doubles winners who went on to specialise in singles. Peter Gade, for instance, was a boys' doubles winner in 1994; China's Yao Jie was a girls' doubles winner that year. Yao, having moved to the Netherlands, became one of the continent's top singles players.
Similar examples are girls' doubles winners Han Jingna and Xie Xingfang, both of whom became renowned singles players.
Since the 2000s, however, it has become rare for top juniors to switch specialisation. No junior singles winner over the last two decades has become known as a doubles player, and the reverse is also mostly true – but for exceptions such as Singapore's Fu Mingtian, a junior doubles winner in 2008.
Although not every junior champion is guaranteed success at the senior level, the record shows that the possibility of a successful transition is high. As the BWF World Junior Championships – the first of this decade – unfolds, fans will want to keep an eye on the talent on display, for they could well dominate the circuit in the years to come.
The Mixed Team event (17-22 October) of the BWF World Junior Championships 2022 in Santander (Spain) begins tomorrow, and will be followed by the individual event (24-30 October)."
https://bwfbadminton.com/news-single/2022/10/16/the-world-juniors-a-window-into-the-future
Badmintonbladet • Per Damkjær Juhl