©2021 Amanda Bloss All Rights Reserved
The battles in Finland will prove which nation has the best squad and who can hold their nerve when the pressure soars. Bragging rights and national prestige are at stake: this is the trophy that everyone wants to take home.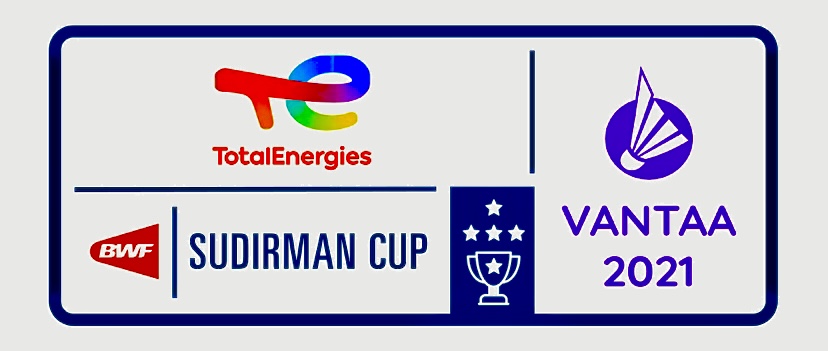 It's the 17th time that the World Team Championships have been held and invariably the Asian badminton powerhouses monopolize the finals. Pick one from China, Indonesia or South Korea and history guarantees that their players will be walking onto the court on the last day. No other country has ever won. Could we see a surprise this time?
The Sudirman Cup starts with sixteen teams in four groups on September 26th; during this stage, all five matches across the sectors are played. After this phase is complete, there is a draw to determine the Quarter-Finals and subsequently Semi-Finals. Crucially this is a knockout stage and every tie is "best of five". This is when players who can force results and drive teammates on to glory will shine.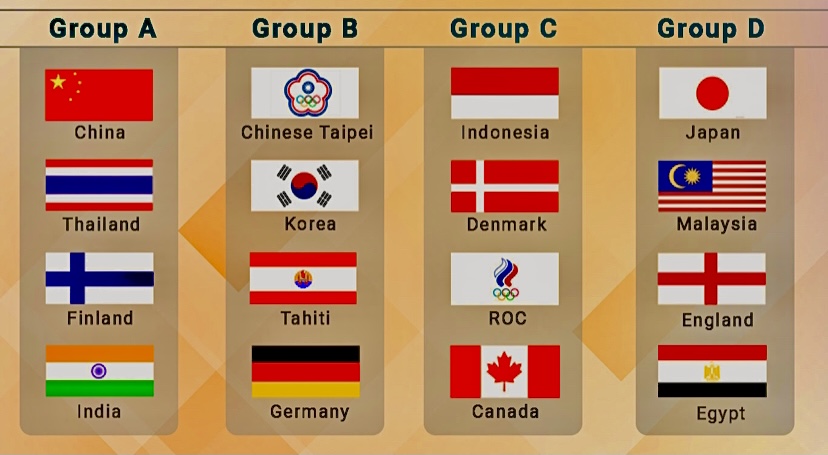 Group A: China, Thailand, Finland, and India
China dominate this competition and their twenty-strong team is an intimidating prospect for any rival. Over the last few months CHEN Yufei's patient, error-free game has seen her crowned Olympic and China National Games Champion; in XD WANG/HUANG hold the same twofold honour whilst in Women's Doubles CHEN/JIA will be in the vanguard of the Chinese defence of the title. This is a magnificent team but they look susceptible in the Men's sectors. A revitalised SHI Yu Qui is a great asset but there is no CHEN Long with him in the Singles. I'm curious about the Men's Doubles line up as this is definitely a sector in transition. Are they beatable? Yes! But probably not until the Final….and possibly not even then.
The battle for second place is likely to be won by Thailand considering they have more firepower than an Indian team weakened by the absence of Saina and Sindhu. Thailand have an exciting fusion of experienced winners like Bass/Popor in XD, alongside Chochuwong and Ongbamrungphan in WS, balancing out the relative inexperience of triple junior world champion Kunlavut Vitidsarn in Men's Singles. India won't be a pushover though, especially in the doubles categories so clearly the tie between them will decide group position. I think Finland will have plenty of home support but to escape this group will require impossibly dramatic results.
Group B: Taiwan, Korea, Tahiti, Germany
Korea has a fine tradition in this tournament; and in Thailand this year we saw good-to-great performances from it's doubles pairs and AN Se Young. I think they will top the group and leave Taiwan and Germany to fight it out for second spot. Taiwan's team is disadvantaged because they are not bringing their Olympic medalists: LEE/WANG or TTY so this could be a tight fight for qualification. Germany's squad includes Lamsfuss, Herttrich and Yvonne LI and they must realise they have a good chance of winning a couple of their ties if they can get results in key areas. Tahiti can compete unburdened by expectation but results against them may turn out to be important.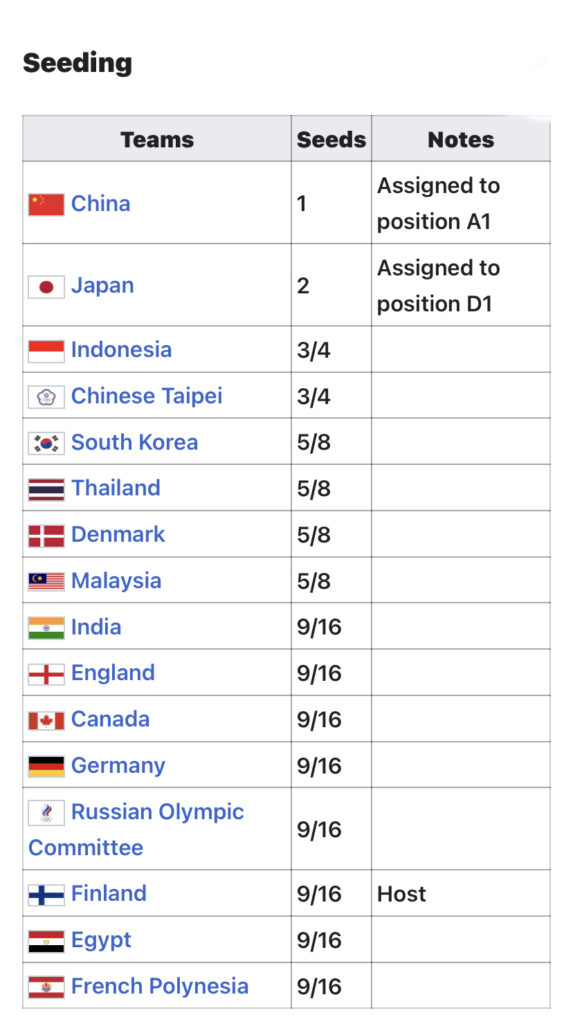 Group C: Indonesia, Denmark, ROC, Canada
Indonesia's team of all the talents can travel to Finland confident that they have the quality and experience to get to the final. The squad is exceptional with Olympic Gold medalists and title holders to match China. Two influential players are at the core of it: Hendra Setiawan and Greysia Polii have the mental strength to inspire their fellow Indonesians to aim high. I think two key personnel are Praveen Jordan and Anthony Ginting because they will inevitably be participating in crucial matches; they must keep focused and crush their opponents.
The cup has never been won by a European nation but Denmark has been in the final twice, most recently in 2011. They are by far the best team in Europe and in Viktor Axelsen they have the Olympic Champion. The squad is capable of challenging hard. I don't think they quite have the depth across all the sectors to win but they should progress to the knockout stages and could get to the Semi-Final.
Group D: Japan, Malaysia, England, Egypt
After their subdued performance at the Olympics and some high profile retirements I'm curious to see how BirdJapan approach the competition they came so close to winning in Nanning 2019. They may be short of a bit of Men's Doubles experience but this is still a wonderful team who are well-known for mutual support from the sidelines. I think we should disregard the Tokyo results and look to Momota, Nozomi and the rest to play without pressure, build early confidence and do well. Prediction: Semi Final
Malaysia and England will be scrapping for second place; both are teams in transition who have brought a selection of youngsters. I remember the scintillating Sudirman Cup tie between England and Denmark back in 2019 especially the courageous performance of Birch/Smith in the WD and I hope they can rekindle that spirit here and escape the group. It's going to be tough to equal Malaysia's quality but this is the tie they must win to progress.
Who Will Bring It Home?
Can anyone stop China winning again? It will be a big task to equal their ambition and dedication to possession of the Sudirman Cup. This is a unique tournament which rewards special athletes. The only other team with the all-round depth of talent that can sustain a long campaign is Indonesia. The beauty of this tournament is that no player can triumph on their own; so the squad with the spirit and resilience to compete without flinching will be bringing the trophy home.
---
If you enjoyed this then take a look at my recent article about Polii and Rahayu 
https://womensbadminton.co.uk/2021/08/12/brilliant-polii-and-rahayu-win-olympic-gold/
---
©2021 Amanda Bloss All Rights Reserved