Carolina Marin gør comeback i sit hjemland!🇪🇸

Badminton Europe skriver – link til artikel nederst….
"The 2022 European Championships draws are ready and so is Madrid. This sets the stage for what will be a great event with thrilling clashes.
Just under two weeks, 13 days to be more precise, is what we will have to wait for the biggest European badminton festival that will be taking place in Madrid from 25 to 30 April. Fans can start preparing already as the draws for all five categories are already here.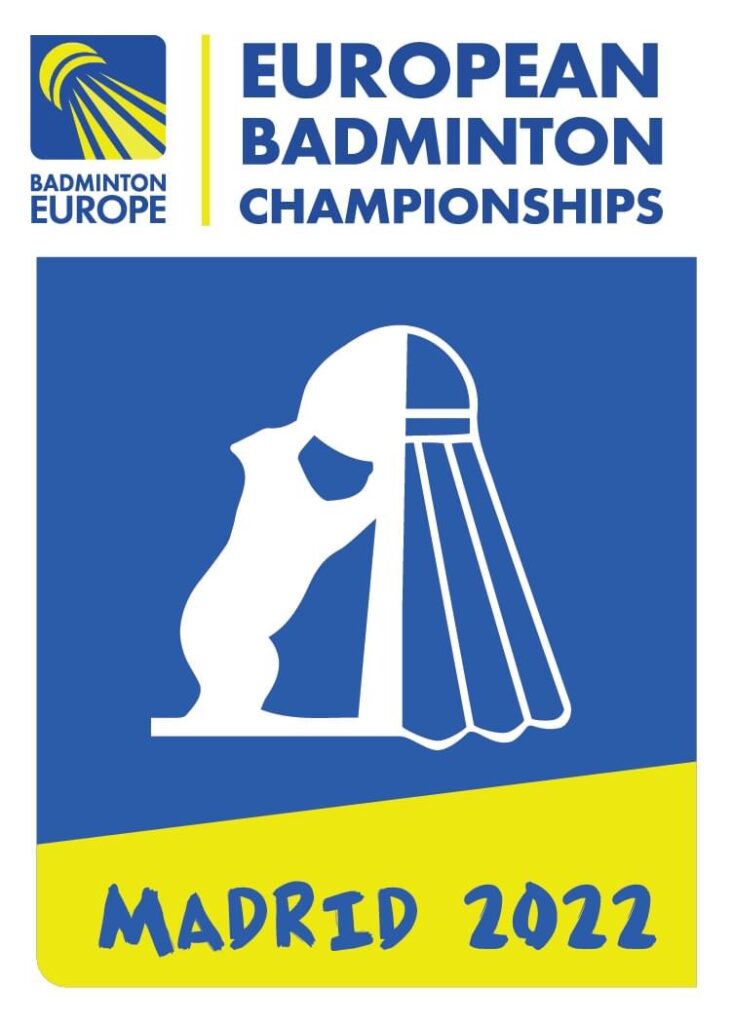 ▪️Men's singles
Europe's and the world's men's singles reigning king versus Europe's most promising star. What a way to kickstart Round 2 of the 2022 European Championships in Madrid, with a match between Viktor Axelsen and Alex Lanier. The French youngster and the category's wild card seems to be following in the Dane's steps and it will be interesting to see what happens in such an encounter.
Fourth-seeded Mark Caljouw will be starting with a clash with Kalle Koljonen. The Finnish player went to Kyiv as the underdog but stun some of Europe's best to win the first-ever medal for Finland at the event. The winner could be meeting Brice Leverdez in the quarterfinals, but the Frenchman will first have to get past Luka Wraber, whom he hasn't met since 2019.
Another French player in the race is Toma Junior Popov who is coming strong into what could be a great event for him. The road to the final will not be that smooth; a potential clash with such an experienced player as Hans-Kristian Vittinghus in the quarterfinals would surely be a challenge.
What a show that Vittinghus gave us in the EC21 semifinal against the now reigning champion Anders Antonsen. Could we be rewarded with just the same in this year's semifinal? For this to happen, Antonsen will first have to come out as victorious against Kai Schäfer, and then Luis Enrique Peñalver – who will be representing the host country in the European event, along with Pablo Abian.
View the full men's singles …. ⤵️ LINK
▪️Women's singles

What great news it was to learn that the queen would back for Madrid. Carolina Marin got to secure her fifth consecutive European gold last year and fans will be watching to see if she can take the sixth on home soil. With an opening match against Centre of Excellence player Katerina Tomalova, she could also have to face Line Højmark Kjaersfeldt before reaching the semifinals.
Line Christophersen will be hoping to repeat her success last year. The talented Dane, then 21 years old, got to fight in the final against Marin and she could be meeting her again in the semifinal. Neslihan Yigit is another contender to stop the reigning champion. The Turkish player met Marin in the semifinal last time, just as she could be doing in Madrid.
Mia Blichfeldt is also back and will meet Ukrainian talent Polina Buhrova on her opening match in the tournament. Yvonne Li could get in her way in the deciding stages, and so will Kirsty Gilmour and Lianne Tan.
Gilmour will first meet CoE player Gayle Mahulette, whereas the only other seeded that she could meet before the semifinals, Tan, could be playing against Clara Azurmendi in the fight for a spot in the quarterfinals, which would have the home crowd cheering for their player.
View the full women's singles …. ⤵️ LINK
▪️Men's doubles
After having no men's doubles final in 2021, we're excited to see who will be in the final show of the category this year. Kim Astrup/ Anders Skaarup Rasmussen were just so close to the top two spots of the podium last year and we will have to see if they make it in Madrid. Number eight seeds Ruben Jille/ Ties Van Der Lecq might be meeting them in the quarterfinals to try and stop them, just like the Popov brothers tried last year.
However, Christo Popov/ Toma Junior Popov would have to get as far as the semifinals to face the Danes. Their dreams for a European silver or gold could be trampled by Alexander Dunn/ Adam Hall or the more experienced and fellow Frenchmen Lucas Corvee/ Ronan Labar. Spain will be in for the challenge with Joan Monroy/ Carlos Piris and wildcards Jose Morales/ Jaume Perez.
Mark Lamsfuss/ Marvin Seidel will be hungry for the final they didn't get to play last year. Fabien Delrue/ William Villeger could be waiting for them in the quarterfinals, having met just a month ago in the Swiss Open. We will have to see which other seeded duos will make it to the deciding stages, such as Ben Lane/ Sean Vendy and Jeppe Bay/ Lasse Mølhede, but unseeded pairs such as Christopher Grimley/ Matthew Grimley could be ones to watch.
View the full men's doubles …. ⤵️ LINK
▪️Women's doubles
Reigning champions Gabriela Stoeva/Stefani Stoeva could be starting the event with an encounter against Clara Azurmendi/ Beatriz Corrales, Spain's only representatives on the women's doubles category. Debora Jille/ Cheryl Seinen, whose partnership started just last year, have proved to be successful and they will be looking to continue getting more important wins on the biggest European stage.
The Dutch might face wild cards Chloe Birch/ Jessica Pugh, one of the pairs to watch in the category. Amalie Magelund/ Freja Ravn are just as dangerous and could be the ones to stop the Stoeva sisters in the semifinals. Before that, some of the potential opponents are the talented German pair of Stine Kuespert / Emma Moszczynski, who have gathered some important victories in Europe, or Sweden's Johanna Magnusson/ Clara Nistad.
A Danish pair that has good chances is that of Maiken Fruergaard/ Sara Thygesen. A match between them and Linda Efler/ Isabel Lohau could be on the cards in what would be an interesting first encounter between the two powerful duos. Julie Macpherson/ Ciara Torrance, who did not get past their first round in Kyiv, will start with a match against Margot Lambert/ Anne Tran who have brought fruitful results with their less-than-a-year-old partnership.
View the full women's doubles…. ⤵️ LINK
▪️Mixed doubles
Who will get the mixed doubles title this time? Both Marcus Ellis/ Lauren Smith and Mark Lamsfuss/ Isabel Lohau have been so close to the gold, could this be their chance to take it? One of them would have to settle for bronze, though. If successful in the first days, they would both face each other in the semifinal.
Adam Hall/ Julie Macpherson could be seeing an encounter with Lamsfuss/ Lohau in the quarterfinals, whereas fellow Scots Christopher Grimley/ Eleanor O'Donnell will have Robin Tabeling/ Selena Piek as their first opponents, with the Dutch pair having previously earned European medals but never together. To secure their first ever, they'd have to get past Mathias Christiansen/ Alexandra Bøje, one of the favourites for the title.
This could be the Danes's chance at taking the title. Another pair with their eyes on the prize, Thom Gicquel/ Delphine Delrue, could deliver if winning against possible opponents Jones Ralfy Jansen/ Linda Efler, and number eight seeds Callum Hemming/ Jessica Pugh. Would the French pair show Europe what they're capable of, as they have numerous times, by meeting Mathias Christiansen/ Alexandra Bøje and taking the win?
View the full mixed doubles …. ⤵️ LINK"
LINK:
http://badmintoneurope.com/cms/default.aspx?clubid=4685&cmsid=239&pageid=5381&m=8582887
Badmintonbladet.dk / Per Damkjær Juhl