Notes on Jawa Pos Journalist, Ainur Rohman.

Original:https://www.jawapos.com/sports/09/07/2020/mengapa-lin-dan-menjadi-ikon-dan-pemain-terbaik-sepanjang-sejarah/
Original:https://www.jawapos.com/sports/09/07/2020/mengapa-lin-dan-menjadi-ikon-dan-pemain-terbaik-sepanjang-sejarah/
Translate by Google.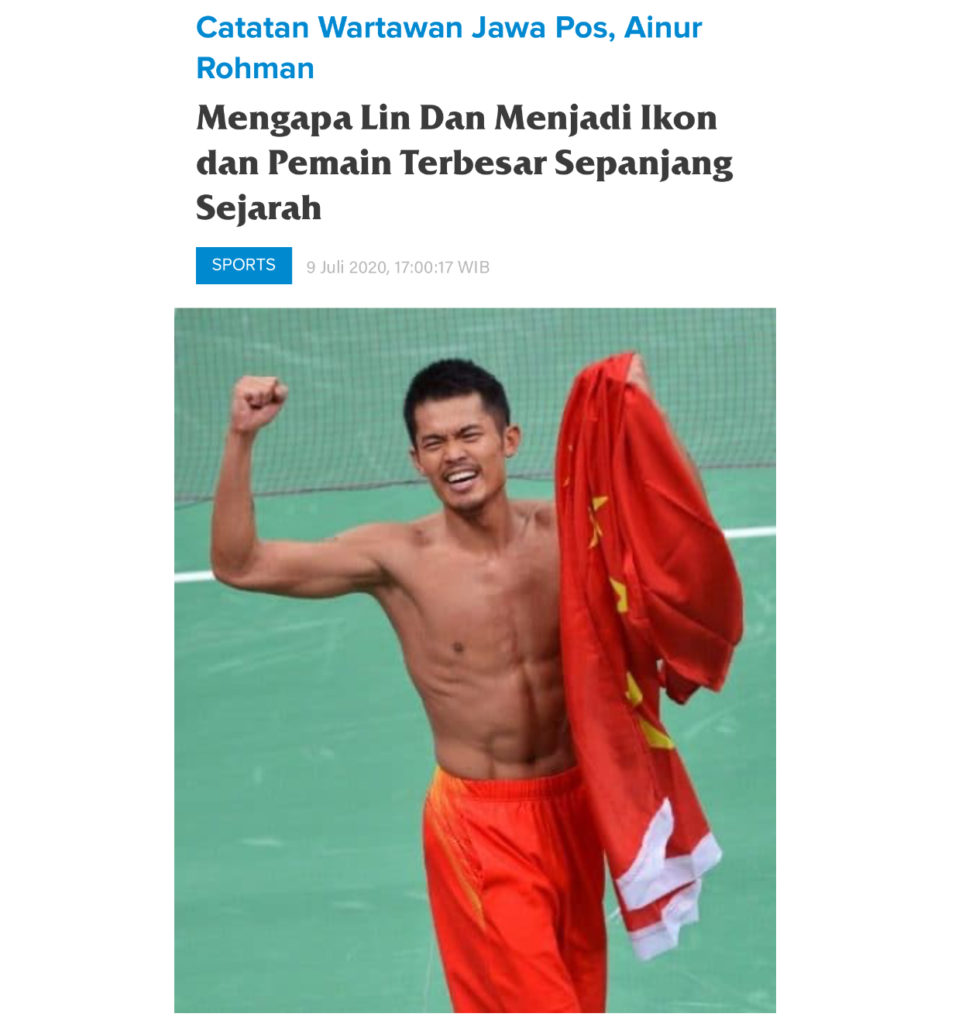 ••••••••••••••• ?⭐️ •••••••••••••••
Lin Dan shouted at the referee. His eyes stared intently, his hands pointing out loud signs of protest.
Lin Dan asked the referee to change the line judge's decision. The referee shook his head in disapproval. Lin Dan continued to complain and look wildly in several directions. To the coach, to the audience, to the line judge, then back to the referee. Still not satisfied, he shouted at his opponent, Lee Hyun-Il. "You see that? Do you see that?" screamed Lin Dan.
Lin Dan felt Hyun-Il's hard smash to the left side of the field come out. The line judge decides otherwise. And this made Lin Dan very, very upset. Because, that conclusion made Hyun-Il reach the match point in a precarious position 24-23.
The heat is infectious in the field. Chinese Hyun-Il coach Li Mao is hooked. He rose from his seat, approached the field, and began to swear to Lin Dan's face.
Coach Lin Dan, Zhang Bo approached Li Mao, trying to calm the compatriot.
Instead of abating, Li Mao pushed Zhang Bao's right shoulder instead. Officials and competition devices nimbly separate the two parties so that physical fighting does not break.
The two-minute tension stopped after the referee removed the yellow card from his left pocket. With a steady, he held the warning sign to Lin Dan.
Lee finally won the 2008 Korea Open final match with a score of 4-21, 23-21, and 25-23. This intense match lasted for 1 hour and 11 minutes. Even though it had just drained of energy, in fact Lin Dan's energy did not run out quickly.
Because he was still upset, after the match, he vented his boisterous anger by throwing the racquet at Li Mao. Fortunately, there were no mass fights because both parties managed to hold back.
With a grunt, to the media, Li Mao said that as long as a coach, he had never faced a player like Lin Dan. "He is immoral!" bursts the big bald-headed coach.
Not wanting to lose, with his stubborn attitude, Lin Dan, who was then 24 years old, said that he had no regrets for doing that.
According to Lin Dan, Li Mao had verbally attacked him. And as fellow Chinese, in Lin Dan's opinion, Lia Mao should not issue derogatory insults.
••••••••••••••• ?⭐️ •••••••••••••••
Korea Open was the opening tournament of the 2008 BWF World Tour. At that time, Lin Dan was the world's number one player. And he has ambitions to win Olympic gold at home, which took place several months later.
The pressure on Lin Dan is indeed very great. In addition to his own insistence, the Chinese public sincerely longs for his hero to climb to the highest podium after the painful failure at the 2004 Athens Olympics.
Four years earlier, Lin Dan, who was number one seeded, had fallen in the first round. He was eliminated by a Singaporean born in Kediri, Ronald Susilo.
Demands to always look perfect, can lead to frustration. There was news that in April of that year, Lin Dan had hit his trainer, Ji Xinpeng in training.
So that cohesiveness is not torn and the image of the country is maintained, rumors circulated that the Chinese badminton authorities forced Lin Dan to deny the case. Lin Dan then writes on a personal blog, fending off incidents that have occurred.
Although famous for having a high temper and excessive emotions, the Chinese public still adores Lin Dan.
First, because Lin Dan was a member of the People's Liberation Army, a respectable military institution controlled by the Chinese Communist Party. To confirm his identity, every time he climbed on the highest podium, Lin Dan almost always did an attitude of respect. A salute to the institution.
In addition, Lin Dan also has a handsome face. His hair is spike and cool. Bad boy predicate makes his masculine aura even thicker. It's even worse because Lin Dan has a beautiful wife, a former world number one named Xie Xingfang.
By the Chinese public, the couple Lin Dan and Xingfang were nicknamed the Condor Couple. It refers to the famous novel and television series The Return of the Condor Heroes.
The age of Lin Dan who is younger than Xingfang, is equated with the legendary couple, Yoko and Aunt Lung.
But on top of all the off-field attributes, Lin Dan's achievements were indeed terrific. Although that year was surrounded by a lot of controversy, Lin Dan won the China Open title, leading China to win the Thomas Cup at Istora Senayan, and of course the peak was to win the Beijing gold in 2008.
Lin Dan claimed that the Olympic gold was his biggest dream. Moreover, if it is obtained at home. However, the day before the final, Lin Dan was beaten because Xingfang fell in the top of the party.
Despite losing, Lin Dan felt that Xingfang, who was the first seed, had fought a great fight against his compatriot, Zhang Ning.
"Fang Fang has done her best. Very good," said Lin Dan.
"So when I was under pressure to win gold, I looked at Fang Fang and was determined to play as well as he did. If it's like that, losing is okay" he added.
Lin Dan's words came true. He played amazingly, slaughtering his biggest rival Lee Chong Wei who looked nervous and pale with a very landslide score of 21-12, 21-8.
At the second Olympics, Lin Dan wiped out five wins without losing a single game!
••••••••••••••• ?⭐️ •••••••••••••••
Lin Dan was born to the Hakka family, in Shanghang, Longyan, Fujian province on October 14, 1983.
As a toddler, his parents Gao Xiuyu and Lin Jianbin, put Lin Dan in a piano course. The hope was of course that Lin Dan became a great musician.
However, when tapping the piano keys into such a tedious activity, Lin Dan's heart was drawn to badminton.
At the age of five, he began to practice and found the preoccupation of beating the shuttlecock. At the age of 9, Lin Dan had left home and lived in a dormitory to focus on playing badminton.
From then on, until eight years later, his grandmother became the most important figure to take care of all of Lin Dan's needs. Every Tuesday and Thursday, the grandmother always visits Lin Dan at school.
On those two days, Lin Dan always looked peek across the window of her class with anxiety. He can not wait for the presence of the grandmother. Seeing her grandmother come and greet her at the bottom of the stairs, said Lin Dan, was one of her sweetest memories in a lifetime.
Lin Dan Little often did not want his family to come to watch the game. He was afraid of being burdened. The desire to always give victory, really makes Lin Dan tortured. For years, he was very afraid to make his family disappointed.
However, the love of the grandmother, made Lin Dan realize that his family was the only unconditional supporter. Whatever results Lin Dan gets, the grandmother's heart is always open for her.
The religion of Lin Dan's grandmother was Christian. Every Sunday, the old woman always goes to church to pray for her grandchild's health and victory.
This is the reason why Lin Dan finally made a tattoo of a cross on his left arm ahead of the 2012 London Olympics. The decision, which made him a national controversy for days.
Training and determination were hard, making Lin Dan became a junior national champion at the age of 12 years. The People's Liberation Army sports team then came to recruit and train him. Six years later, Lin Dan officially entered the Chinese national team. He is still 18 years old.
••••••••••••••• ?⭐️ •••••••••••••••
Lin Dan plunged into the senior arena in 2001. A year before, he was only able to penetrate the semifinals of the Junior World Championship. At the event, Lin Dan and Lee Chong Wei, who later became his biggest rivals, shared a bronze medal.
Gold and silver were obtained by Bao Chunlai and Sony Dwi Kuncoro.
Two years later, Lin Dan won his first major title at the Danish Open. In February 2004, for the first time, Lin Dan became the world number one player.
Ranked number one in the world at the age of 20 years, Lin Dan had an extraordinary year. For the first time, he won the All England. Then, Lin Dan helped China win the Thomas Cup at Istora Senayan, Jakarta.
The 2004 All England title, which made Danish legend Peter Gade Christensen give the nickname Super Dan. The term which then sticks from then until whenever.
However, in mid-July, ahead of the 2004 Athens Olympics, Lin Dan suffered a leg injury. In conditions not fit, Lin Dan, who occupy number one seeded, ran aground in the first round.
Lin Dan never argued that the defeat was due to his poor body condition. He only said that Ronald Susilo, the opponent, had a greater desire to win. Very far compared to him.
After the defeat that made it stuffy in Athens, Lin Dan's rays did not necessarily dim and perish. Destiny, finally led Lin Dan to become the world's best player by winning two Olympic gold back-to-back in 2008 and 2012.
Taufik Hidayat was slaughtered in the final of the 2005 World Championship, only a bridge that shot Lin Dan to dominate more by becoming world champion five times in the next six tournaments.
••••••••••••••• ?⭐️ •••••••••••••••
In 2011 or when he was 28 years old, Lin Dan officially won the Super Grand Slam title for winning nine major badminton titles. Namely the Olympics, World Championship, World Cup, Thomas Cup, Sudirman Cup, Superseries Final, All England, Asian Games and Asian Cup.
Lin Dan was the first and only player who managed to do it. And apparently, it will take a very long time for any player in this world to be able to match the phenonemic record.
Lin Dan's consistency was extraordinary. At the age of 33, he can still become world champion and All England. Two years later, Lin Dan remained able to look solid by breaking into the 2018 All England final.
Lin Dan became the best player of all time because he was equipped with high technique and a very athletic body. According to the 1995 world champion and two-time All England champion Hariyanto Arbi, Lin Dan is special because he has strong and agile legs.
With strong and light steps, Lin Dan can easily reach the ball and control the corners of the field.
Lin Dan was also not afraid to take risks. In a badminton game, a world-class player can generally find the right formula between strength and accuracy.
To become top players, they must be able to measure the level of strength and accuracy so as to produce a deadly blow.
Lin Dan is special because he is very good at hitting the opponent's sideline with solid strength and very accurate.
Not all players are able or dare to take this strategy. Because, if it's too strong, the ball will come out. If it's too weak, the ball will be easy to anticipate.
Lin Dan skillfully found an efficient recipe for killing enemy defenses from this point. The blow was terrible because it was hard, sharp, and very purposeful.
Lin Dan's weapons are also very varied. With his left hand, Lin Dan can hit in various ways, tricks, and hooks with very high technique.
Lin Dan's defense is also very difficult to penetrate because he has a terrific body balance. Lin Dan was able to immediately survive with a perfect attitude even after doing a powerful jump smash .
In fact, even in an uncomfortable position, Lin Dan was able to smash strongly. One of the characteristics of Lin Dan is that he can do jump passes with a hard force level forehand even though the ball is in the backhand position .
This method is not very easy.
Why is Lin Dan good at using that technique? The answer is because he has acceleration, speed, strength, and flexibility of the wrist which is not absurdly good.
Lin Dan was very easy to turn an unprofitable position into a deadly assault weapon.
Other world players might be able to smash in that way. However, the lack of acceleration and nimbleness, made them fail to inject full strength in each stroke. Ironically, this is a very easy thing to do by Lin Dan for a dozen years.
But clearly, high level expertise wasn't Lin Dan's only strength. Lots of talented players fail to reach their greatest potential because they can't beat the pressure.
Lin Dan can be the greatest player of all time because he has a very powerful mentality.
From the start, Lin Dan defined himself as a fighter who refused to surrender before fighting all out. "Lin Dan you see is Lin Dan who is very competitive and fierce," he said in a short film released by Intel.
Lin Dan exemplified the power of that thought in the 2013 badminton season. At that time, he only got a wild card ration to be able to play to defend his world title.
Injury, failed to compete in many tournaments, making his ranking fell to 286 world position. However, with extraordinary mentality, Lin Dan won by only losing one game in the final against Lee Chong Wei.
Lin Dan said that his glory didn't only originate when he won. But his ability to rise after a bitter defeat. Lin Dan has a tattoo that reads "Until the End of World" on his right arm. This is the title song ending in his favorite anime, Slam Dunk.
After each match, when walking away from the audience, Lin Dan said that he must feel very satisfied with what he had presented. Don't care about the results. Winning and losing is no longer relevant. Because, Lin Dan has devoted all his energy to playing badminton.
Therefore, Lin Dan was often at the highest emotional level. He shouted loudly, hands clenched forward, or undressing and showing off his muscles when winning. In contrast, Lin Dan can also cry loudly when defeated.
This explosive expression made the experience of watching Lin Dan's matches very interesting. Because Lin Dan always get rid of the inferior nature. He was not shy about demonstrating his identity. And that's what makes it a global icon and the biggest badminton superstar .
I met twice and participated in interview sessions conducted by Lin Dan in two large events. First when he won the 2014 Asian Games gold in Incheon. And secondly when he lost in the 2016 Rio Olympics semifinals.
This person does have an aura of astuteness and charisma that is very strong. Far beyond any world class player I have ever met. Lin Dan seemed to rarely smile. Because, he focused all the focus totally in the match. There is nothing that can shake it.
That skill and mentality also made former world number one Lee Chong Wei obsessed.
••••••••••••••• ?⭐️ •••••••••••••••
Throughout their careers, Lin Dan and Chong Wei have dueled 40 games. Lin Dan won in positions 28-12. A total of 22 battles took place in the final. That includes the 2008 Beijing Olympics final, London 2012, 2011 World Championship, and 2013. In the four finals, Lin Dan always wins.
Lin Dan also excelled in the Superseries final event. In 11 battles, Lin Dan won nine times.
Even so, Chong Wei had his own success. In ten years from 2007 to 2017, Chong Wei won 47 superseries titles and became the world number one player in 349 weeks. That includes 199 consecutive weeks from August 21, 2008 to June 14, 2012.
In terms of win-lose percentage, Chong Wei is also better than Lin Dan. Chong Wei is ranked first on the list of the greatest men's singles of all time with a record 721 wins and 134 losses, aka 84 percent.
Meanwhile, Lin Dan is ranked second with a record 83 percent (670 wins and 134 losses).
••••••••••••••• ?⭐️ •••••••••••••••
( Statistics:
••••••••••••••• ?⭐️ •••••••••••••••
Lin Dan's last meeting contra Chong Wei occurred in the quarterfinals of the All England 2018. At that time, Chong Wei lost in a straight game. That was the last year for Chong Wei's great career. Tragic, because he was forced to retire due to an ambush of nasal cancer.
Chong Wei claimed that Lin Dan's greatness encouraged him. In each exercise, Chong Wei said that Lin Dan's figure always haunted his mind.
If he wanted to be a champion in a large event, Chong Wei insisted that he definitely had to defeat Lin Dan.
Therefore, Chong Wei must train hard. To hell with pain. Because, dedemite named Lin Dan must be defeated immediately.
"Even when I have cramps, I told the coach to keep on practicing. I don't want to stop because at the other end, Lin Dan is waiting, "said Chong Wei, quoted from the official BWF website.
Lin Dan also assumed that Chong Wei was his biggest enemy and always inspired him. But actually, in Lin Dan himself, there was a passion that was never satisfied.
Every year, Lin Dan feels that he hasn't reached the top of the game yet. Even when there was no big title to win, Lin Dan kept trying to win. Although on the other hand, age continues to lurk and gradually stunt its ability.
Lin Dan, who has ambition to penetrate his fifth Olympics in Tokyo 2020, must take a deep breath and let out a sigh. Because, apparently his old body was difficult to be invited to run fast and jump high.
Down in four tournaments throughout 2020, Lin Dan always fell in the first round. After that, he was only able to reach the second round of All England.
The combination of the new corona virus pandemic, poor results, series of injuries, and low world ranking, forced Lin Dan to retreat in silence.
In his parting sentence, Lin Dan told himself to continue to endure despite being suffocated with pain. He wants to continue to challenge physical limitations as an old athlete.
But, no matter how big the desire, after all will eventually submit to the cruel clutches of time. On July 4, 2020, Lin Dan retired at the age of 36 after 20 years of fighting at the highest level.
And even though the physical presence is finished apart, our memories of the greatest badminton player in history named Lin Dan, will remain bound. Forever.