by Dennis Bostrup Commentator, TV 2 SPORT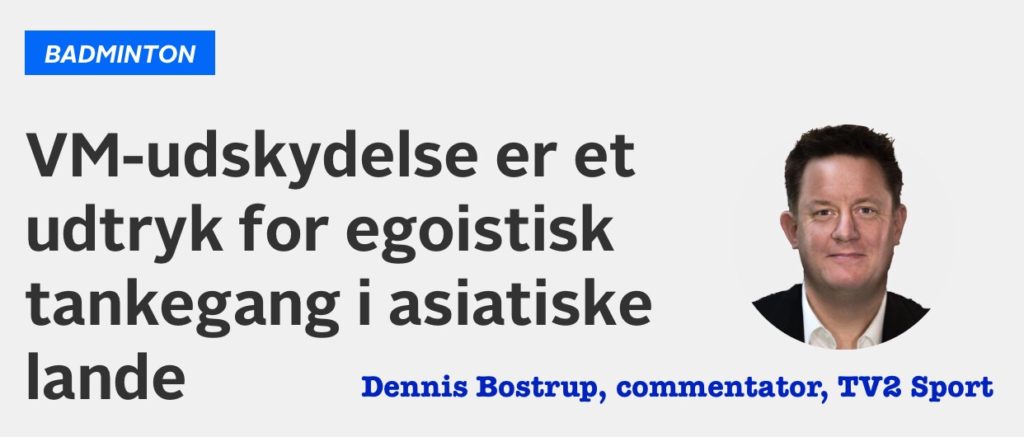 TV 2 SPORT's badminton commentator believes that the postponement of the World Cup and the cancellation of the Denmark Masters is sad. It's a disaster for the sport of badminton. Nothing less.
https://sport.tv2.dk/badminton/2020-09-16-vm-udskydelse-er-et-udtryk-for-egoistisk-tankegang-i-asiatiske-lande
Tuesday's official announcement that the Thomas / Uber Cup will once again be postponed and that the Denmark Masters will be canceled, is an expression of a strange and selfish way of thinking in the Asian countries. As such, it is not the associations that choose not to participate in these Danish tournaments. It is the individual players who have reported back to their association that they do not want to travel to Denmark. Why, I'll get to that in a moment.
Let us consider the consequences for a brief moment. So far, it seems that Badminton Denmark, together with the Badminton World Federation, BWF, is sticking with completing the Denmark Open. It is commendable and certainly a bright light in these times. But let's be honest. It will be a decimated tournament when the cancellations from Asia probably rain down on Badminton Denmark. It will probably be like an extended Danish Tournament with maybe a few Asians and otherwise only European players coming to Denmark. But I have to see it and I will support it 100 percent.
I can also see that the BWF has not yet canceled the two or three tournaments that should have been played in Asia in the month of November. But it can only be a matter of time before an official cancellation notice arrives there. I cannot imagine that you can play out there when it is not possible in Denmark.
It leaves a total chaos in the BWF. So when can the international tournaments start? In early 2021, some suggest. But what has changed in January compared to right now? The coronavirus will still be ravaging the world at that time. And nothing will change before a vaccine arrives, which still has long-term prospects. So when should the World Tour start again? It must be a gigantic question that the BWF and general secretary Thomas Lund are pondering these days.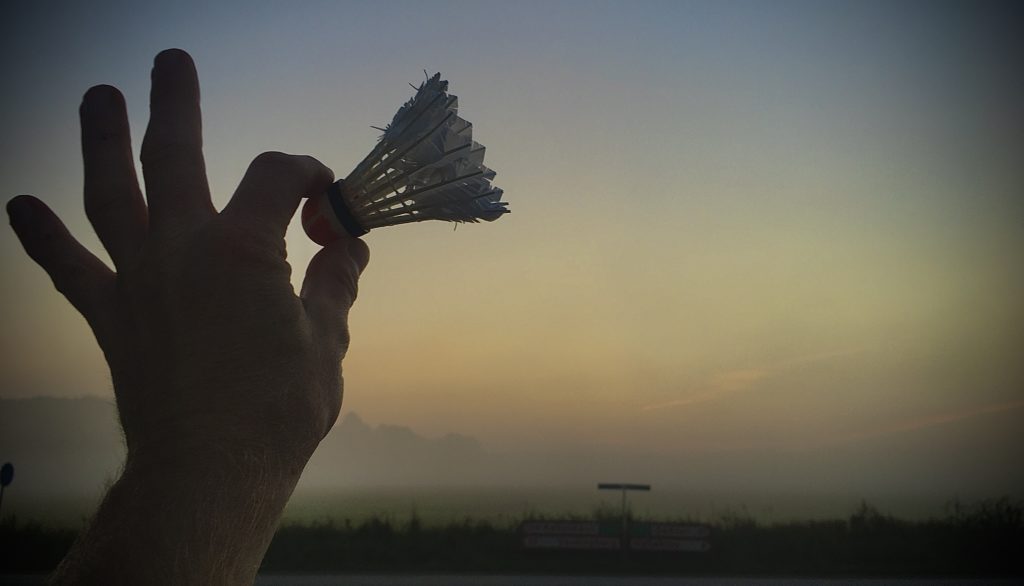 Great resources three times
I would also like to send a few well-meaning thoughts to Badminton Denmark, to director Bo Jensen and all his employees who have worked hard to set up a system in Denmark in October, where we could have run three huge tournaments under safe conditions.
Badminton Denmark has done EVERYTHING to make it safe for all participating players and officials. Lots of tests, temperature measurements on everyone who is supposed to go into the hall, and in general a system that would keep the players in a bubble and away from external influences. That way, it's almost safer to be in that bubble than anywhere else.
Badminton Denmark's people have used enormous resources three times now, as the tournament has now been postponed for the third time. It wears one out, and I understand very well that in Denmark you do not want to set up a tournament again in February with the risk of doing a lot of preparation and then cancelling again 14 days before the event.
Do not buy the concern about corona
And why is it that the Asian countries announced in a row that they're not participating for the three Danish tournaments? It's not just about the fear of getting COVID-19. But instead about a mistake the BWF made earlier in the year. After All England, the BWF decided to freeze the rankings and declared that there were no more points to pick up for the rankings and for the Olympic qualifiers for the rest of the year. It would only be possible again after All England 2021.
And if you then know that in most Asian countries, the players are paid by the various associations and only get a percentage of the won prize money (the percentage differs from country to country), well what is the incentive for the Asian players to travel to Denmark?
They don't really earn anything financially and there are no points at stake for the rankings or the Olympics. In that situation, they chose to say that the only thing they risk is picking up a virus, and then they don't think at all long-term or about the well-being of the sport. Believe me, if there had been Olympic points at stake, they would have all been here for the Thomas / Uber Cup and for the Denmark Open and Denmark Masters. So I do not buy the concern about coronavirus.
Sad for the sport
The cancellation, on the other hand, has major financial consequences for the Danish players, who are somewhat more dependent on the tournaments being played. Both in relation to prize money but certainly also in relation to their sponsors. That is also why in the last few weeks we have seen several Danish stars approach the Asian badminton players on social media and tell them how safe it would actually be for them to come to Denmark.
But the Asian players did not come, and now the season is more or less canceled for 2020. No one has any idea of when it will all start up again. Meanwhile, we can watch cycling in France, football from all over the world, tennis, NFL, basketball, handball and think about whether viewers will find other channels to watch and whether sponsors will find other sports to support.
All this is really sad for badminton as a sport. But I'm afraid that many of the Asian players only have their own interests and the Olympics in mind and have not thought through what consequences this could have for the sport they love after all.
I wish we could re-introduce matches with ranking points with immediate effect. I wish people would stick to participating in scheduled and safe tournaments. Then those who want to can play. And the others can sit at home on their couch and watch from the sidelines.
Major decisions have to be made in the BWF. And very soon thank you very much.