Badmintoneropa, Twitter:
" Next week will be the year-end ranking as well as the 22nd week of the BWF unfreezing system! Are you ready for 2023?? 🏸🏸
13 tournaments will probably be erased from the ranking calculation including:
– World Tour Finals 2021
– Indonesia Open S1000
– Indonesia Masters S750
– Five International Challenges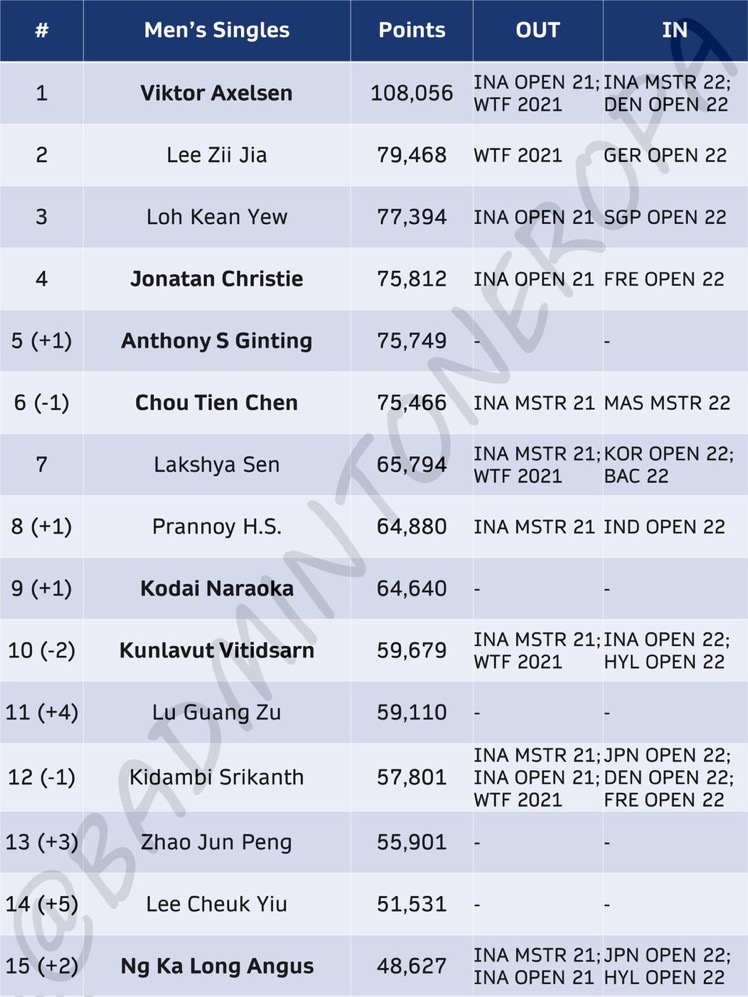 MS 👨‍✈️
Axelsen (DEN) will finish 2023 with 100k+ points! Both of Christie and Ginting (INA) will finish the year inside the Top 5. Guang Zu and Jun Peng (CHN) are approaching the Top 10, but where'll they be at the start of 2023?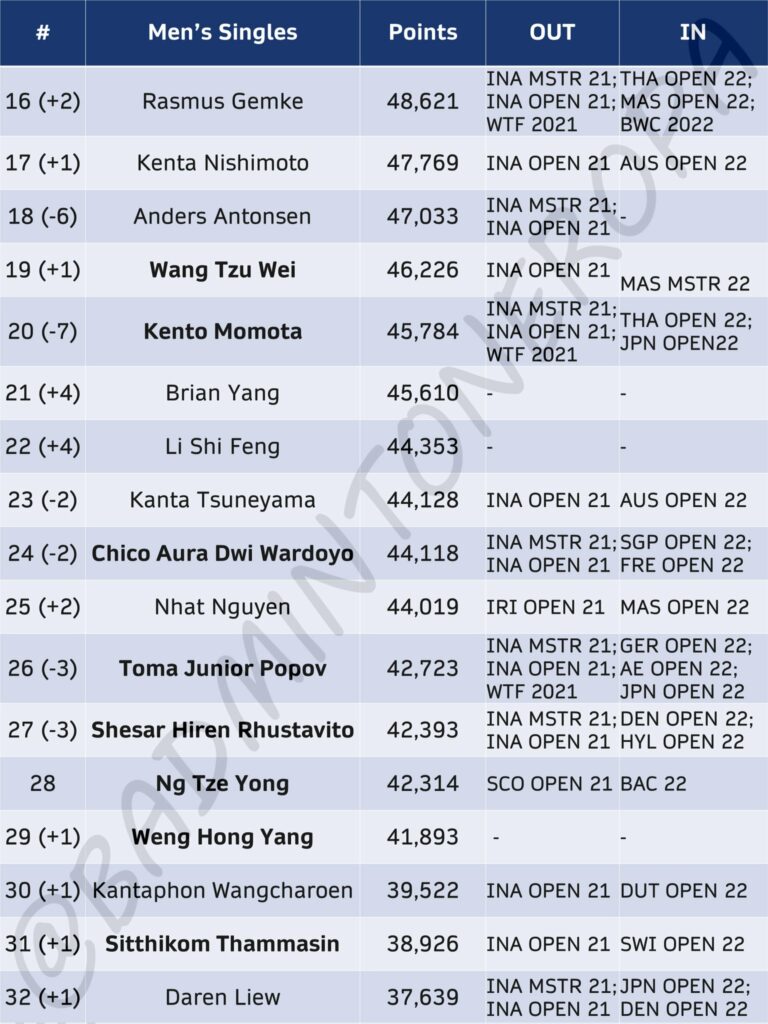 Gemke (DEN) and Nishimoto (JPN) will finish the year as the MS2 of their country; above Antonsen and Momota 😌😌 India become the country with most MS players (7) inside the Top 50 👍🏻👍🏻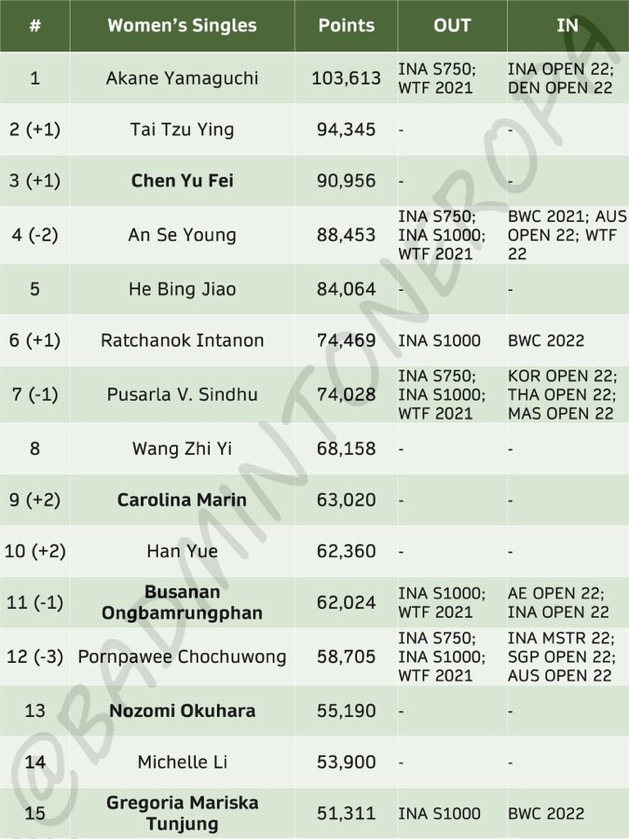 WS 👩‍✈️
Han Yue (CHN) will improve her career-high ranking by rising to #10! She'll also become the FOURTH WS CHN inside the elite 10 at the year-end table 🔥🔥 With another year of struggle, Marin (ESP) will still finish in the Top 10 🤗🤗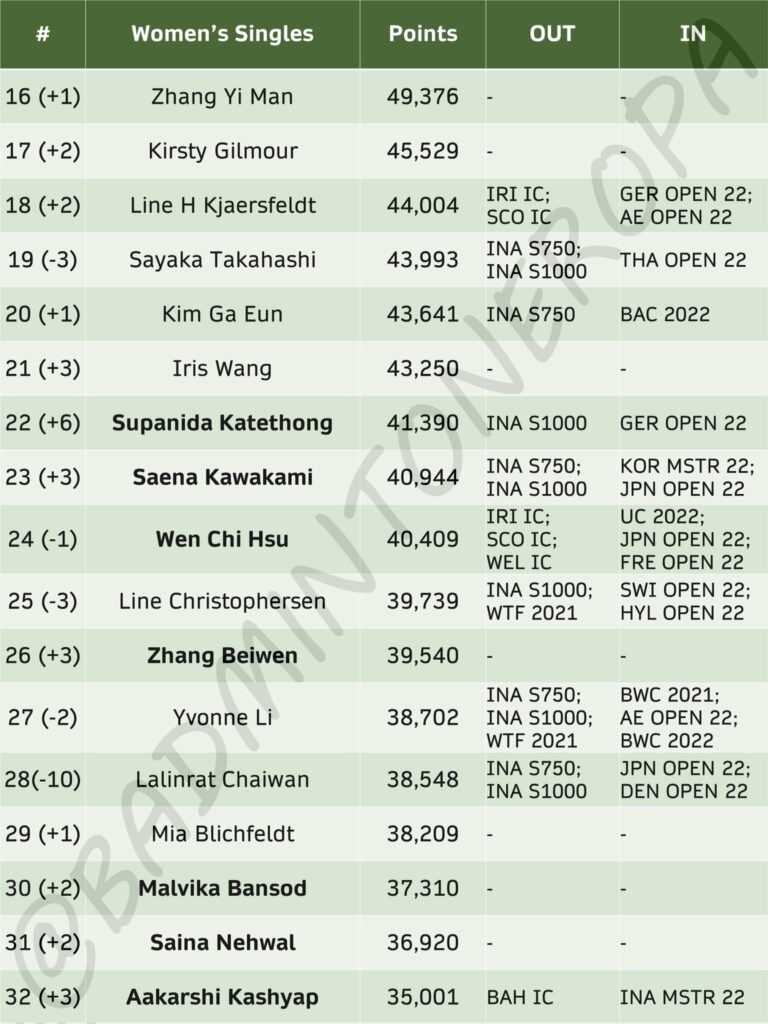 Significant drop for Thailand WS with both Chochuwong and Ongbamrungphan move out from Top 10 and Chaiwan drop 10 places to #28. Japan will finish 2022 with seven players inside the Top 50, more than any country 👏🏼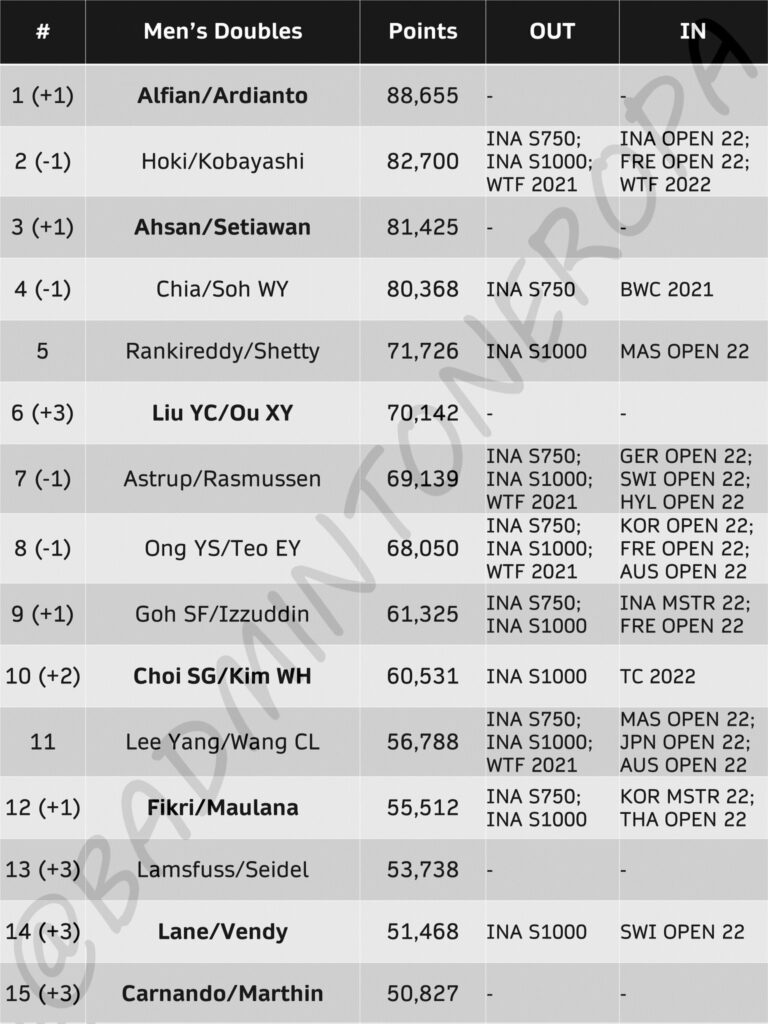 MD 👨‍✈️👨‍✈️
This how Alfian/Ardianto (INA) will take over the world next year! What a great year for them as they had their first S750 title, qualified as first seed of WTF, and won the most improvement players of the year! 🎊🎊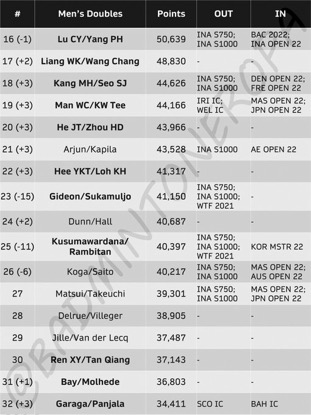 Gideon/Sukamuljo and Kusumawardana/Rambitan (INA) will drop more than 10 places though they'll still land in the Top 25. Malaysia have seven pairs inside the Top 50; three of them are safe in the Top 10 👏🏼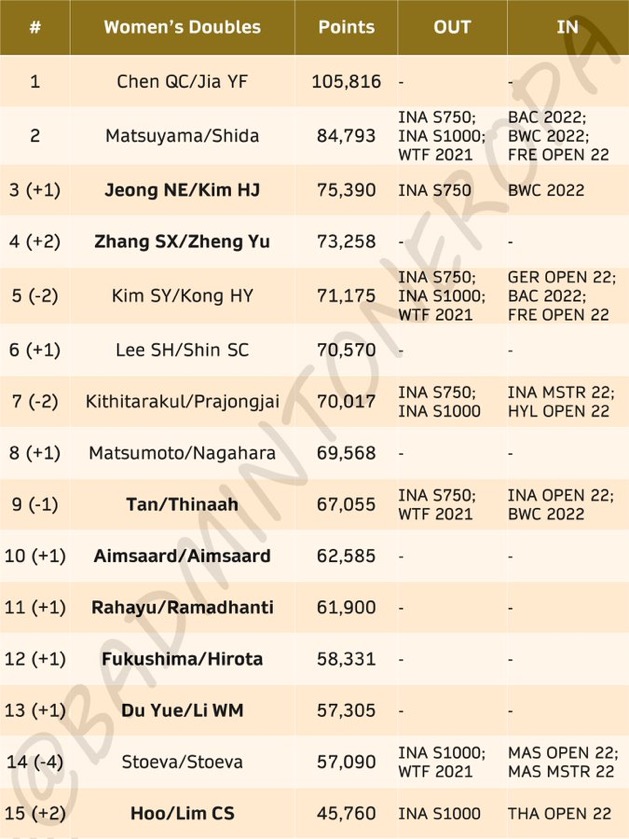 WD 👩‍✈️👩‍✈️
Jeong NE/Kim HJ will be crowned as the WD1 of South Korea as they'll rise to their new career-high #3 per next week 🔥🔥 Another great milestone for Zhang SX/Zheng Yu (CHN) who'll become second CHN WD pair in the Top Four 👏🏼👏🏼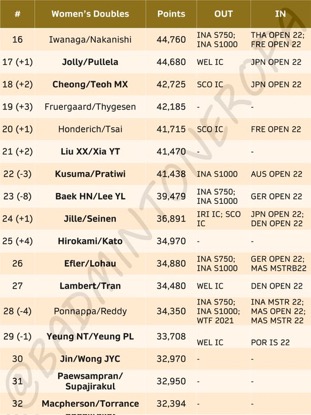 Week 52 of 2022 won't feature Polii/Rahayu (INA), Supajirakul/Taerattanachai (THA), and Birch/Smith (ENG) in the Top 50 list… Japan and India will have five pairs in Top 50, but, hey, three WD from USA is also great! 🔥🔥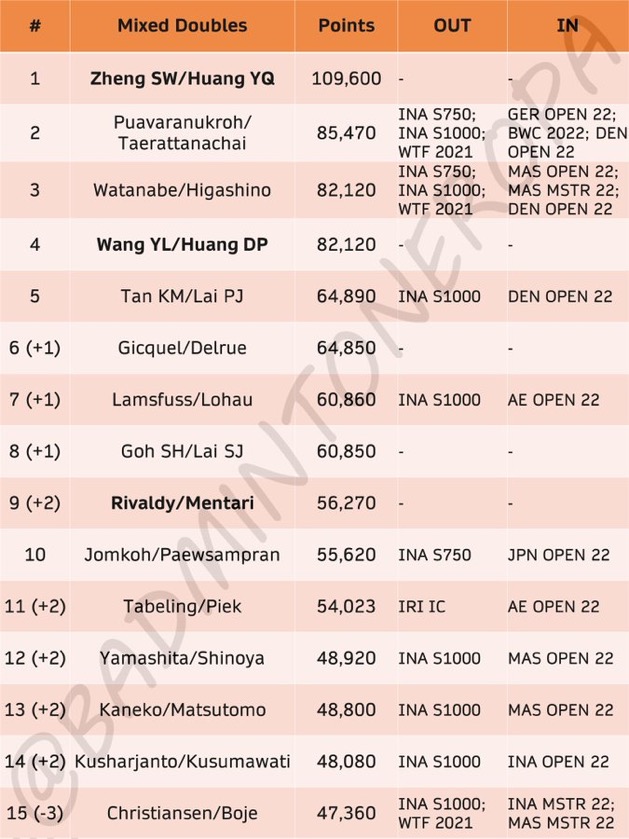 XD 👨‍✈️👩‍✈️
Zheng SW/Huang YQ (CHN) will become the pair/player with the most points in a year! 🔥🔥 Rivaldy/Mentari (INA) will continue INA's record of having pairs in the Top 10 XD 👏🏼👏🏼 New career-high rank for Gicquel/Delrue (FRA) at 6th!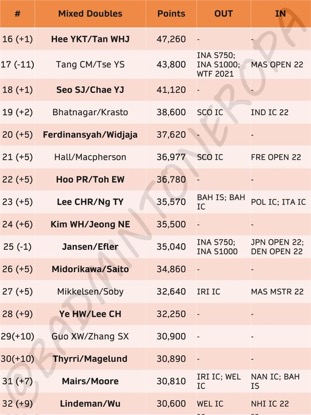 Tang/Tse (HKG), Chen/Peck (MAS), Chang/Ng (HKG), Ko/Eom (KOR), Ellis/Smith (ENG), and Jordan/Oktavianti (INA) will all experience such bad losses caused by their abscence this year… 😣😣"
😘💥🙏🏻❤️
Badmintonbladet 🎄 Per Damkjær Juhl