Men's singles
https://cms.bwfbadminton.com/wp-content/uploads/2022/08/WC-2022-DRAW_MS.pdf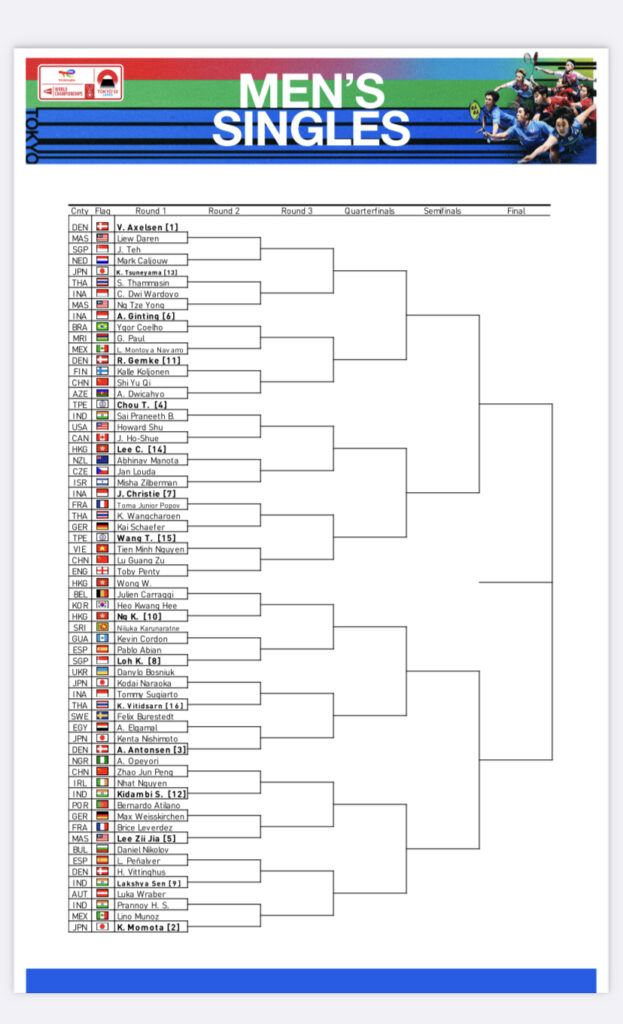 Women's singles
https://cms.bwfbadminton.com/wp-content/uploads/2022/08/WC-2022-DRAW_WS.pdf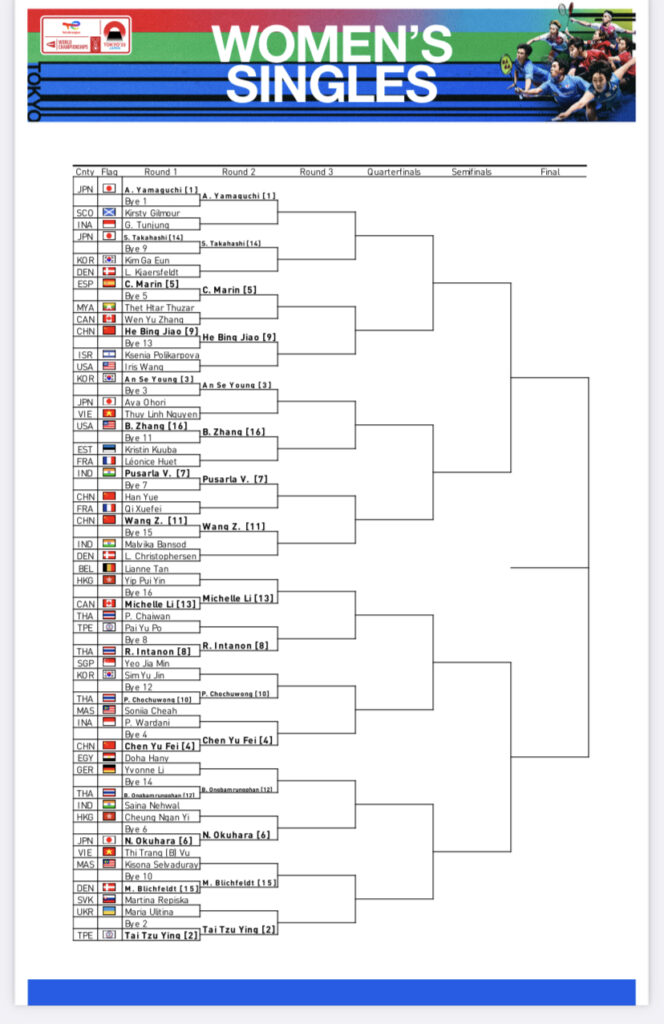 ▪️

BWF, Press release…..
"TotalEnergies BWF World Championships 2022 Draw
The Live Draw Ceremony for the TotalEnergies BWF World Championships 2022 was conducted today at BWF Headquarters in Kuala Lumpur.
The championships run from 22-28 August at the Tokyo Metropolitan Gymnasium, with 363 players from 47 Member Associations entered.
The top seeds and defending champions fared relative well in their respective draws.
Men's singles world No.1 Viktor Axelsen of Denmark is on a 31-match winning streak this season. He potentially faces last week's Commonwealth Games semifinalist, Jason Teh of Singapore, in the second round.
Two-time mixed doubles world champions, China's Zheng Si Wei/Huang Ya Qiong, arrive in Tokyo having won six straight tournaments. They are in the same half of the draw as compatriots and Olympic Games conquerors Wang Yi Lyu/Huang Dong Ping.
▪️
Men's doubles
https://cms.bwfbadminton.com/wp-content/uploads/2022/08/WC-2022-DRAW_MD.pdf
Women's doubles
https://cms.bwfbadminton.com/wp-content/uploads/2022/08/WC-2022-DRAW_WD.pdf
Mixed doubles
https://cms.bwfbadminton.com/wp-content/uploads/2022/08/WC-2022-DRAW_XD.pdf
▪️
After surprisingly missing out on a medal at her home Olympics last year, 2021 women's singles world champion Akane Yamaguchi seeks redemption on home soil. The likes of Carolina Marin (Spain), He Bing Jiao (China), An Se Young (Korea), and recent Commonwealth Games champion Pusarla V. Sindhu (India) will try and block her path to the final."