https://womensbadminton.co.uk/2020/07/14/ratchanok-intanon-superstar/
By Women's Badminton.
Womensbadminton.co.uk ©2020 Amanda Bloss All Rights Reserved
"Sometimes to be a champion, it's not just about the competition, it's also about how you live your daily life" Ratchanok May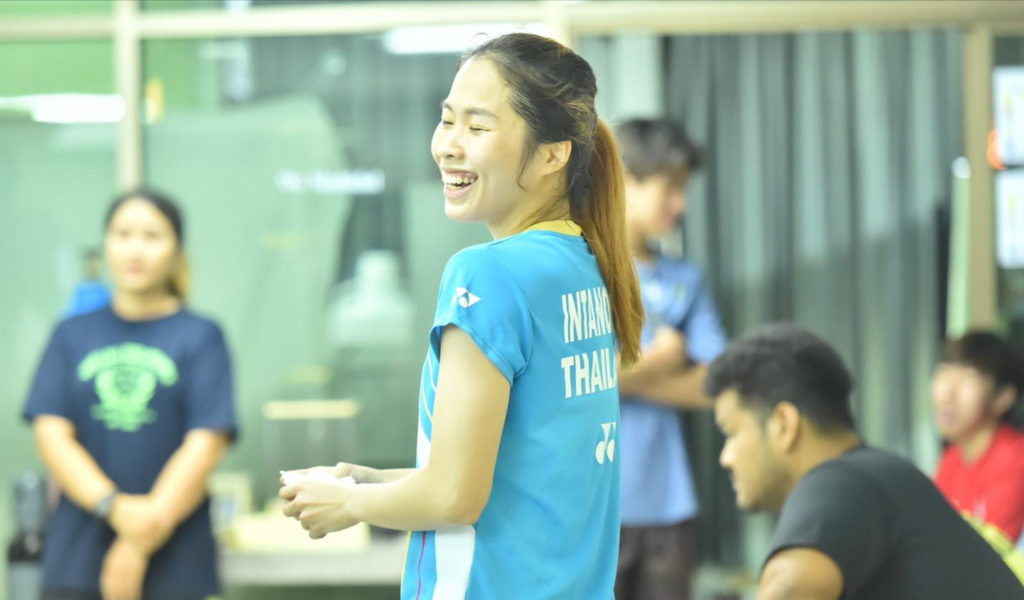 From Ratchanok Intanon/Banthongyord Badminton School Facebook.

Anyone who loves badminton must adore watching Ratchanok's matches. Her racket skills are magnificent and they have been the foundation of a fantastic career. There are countless highlights – too many to list – but becoming World Champion in 2013 at age 18, being ranked world #1 in 2016, a bronze at the World Championships in 2019 and a consistent spot in the Top 10 confirm her status as one of the most outstanding players of her generation.
May's movement around a court is smooth and graceful; this elegance is wonderful to watch but it is also efficient. A core strategy of Women's Singles is movement – the urgent pressure on a rival to cover distance and direction at pace. As she skims over the court, she exerts time-pressure on her opponent. The nanoseconds she gains all add up to an advantage. She often seems able to hold a shot for a split second before she pulls the trigger; this means she lures the other player to anticipate the shuttle's destination, often with unfortunate consequences.
My favourite element of her game is her net play. She can go toe-to-toe with anyone and emerge victorious. Her net spin shot is delicate, precise and it often gets her out of trouble. A typical sequence is net spin, answered with a weak lift then a point winning smash/kill from May. There is so much complexity and technical skill to her game. It's a misconception that players are born with this talent; May can execute these shots because she has practised for thousands of hours and she has the imagination and tactical ability to use them effectively.
I also regard her as a courageous player – although on occasion this is a blessing and a curse. Her precise shots mean that she has the confidence to place the shuttle on the line. Under pressure from an opponent who 'just' keeps it in play – for example a strategy used by CHEN Yufei – she can sometimes be tempted to try and cut a rally short and go for a quicker point rather than play percentages and wait for a clear opportunity to score. Some analysts have questioned her resilience as a result of this.
The COVID crisis has been hugely disruptive to most athletes training programmes and different nations have tried to tackle this dislocation in assorted ways. We've seen home tournaments in many places including Indonesia and Taiwan, and more coach-supervised training. The people who can exit the lockdown having added to their game, rested injury niggles and refreshed their outlook are going to enjoy a significant advantage in competitions.
May has been very clear about her goal of winning an Olympic medal.  The road to Tokyo2020 has had more twists and turns than we could have ever predicted back in January so with that in mind what are her prospects if it goes ahead as planned next year? She has not been wasting this enforced break from tournaments.  If we look at her social media posts, they are full of gym work.  It looks like she is addressing questions about her endurance.  She is always a gritty competitor who knows how to win and so enhancing her stamina is going to be one of those incremental gains that could be significant in the heat of battle.
Testing leg strength during lockdown. Picture from Ratchanok Intanon/Banthongyord Badminton School Facebook.
Ratchanok Intanon is one of badminton's most loved players. It's not simply due to her attractive playing style. She works hard and takes nothing for granted; her gracious sporting attitude, bravery under pressure and obvious enjoyment of life means she is a great role model for aspiring athletes. I would simply be delighted if she was standing on the podium in Tokyo next year.
If you enjoyed this you may also like to read an earlier piece I wrote about Ratchanok https://womensbadminton.co.uk/2019/06/26/ratchanok-can-thailands-sweetheart-get-gold/ 
or this article about another of my favourite players TAI Tzu Ying https://womensbadminton.co.uk/2020/06/19/tai-tzu-ying-the-greatest/

©2020 Amanda Bloss All Rights Reserved