SEMIFINALE
Denmark 3 – China 2
Poul-Erik Høyer Larsen
Dong Jiong 6/15, 18/17, 15/11
Høyer Larsen var bagud 1-13 i andet sæt. Her er de sidste point fra tredje sæt.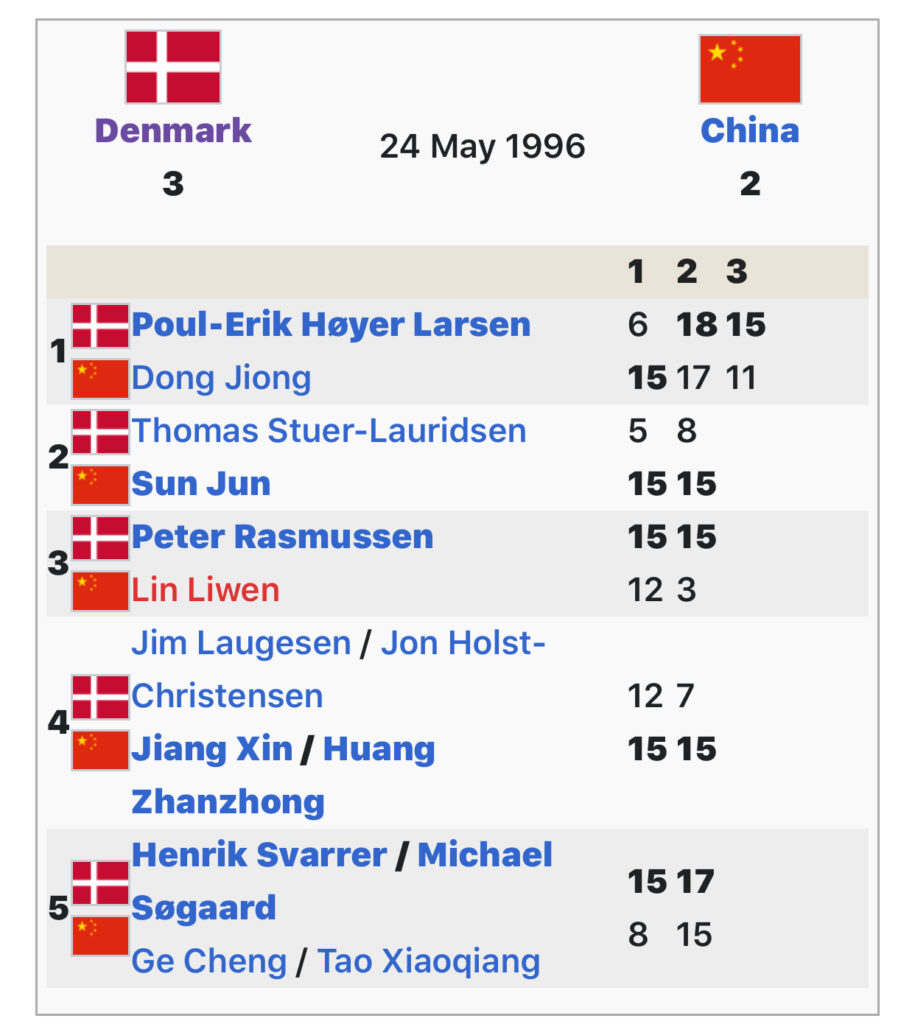 FINALE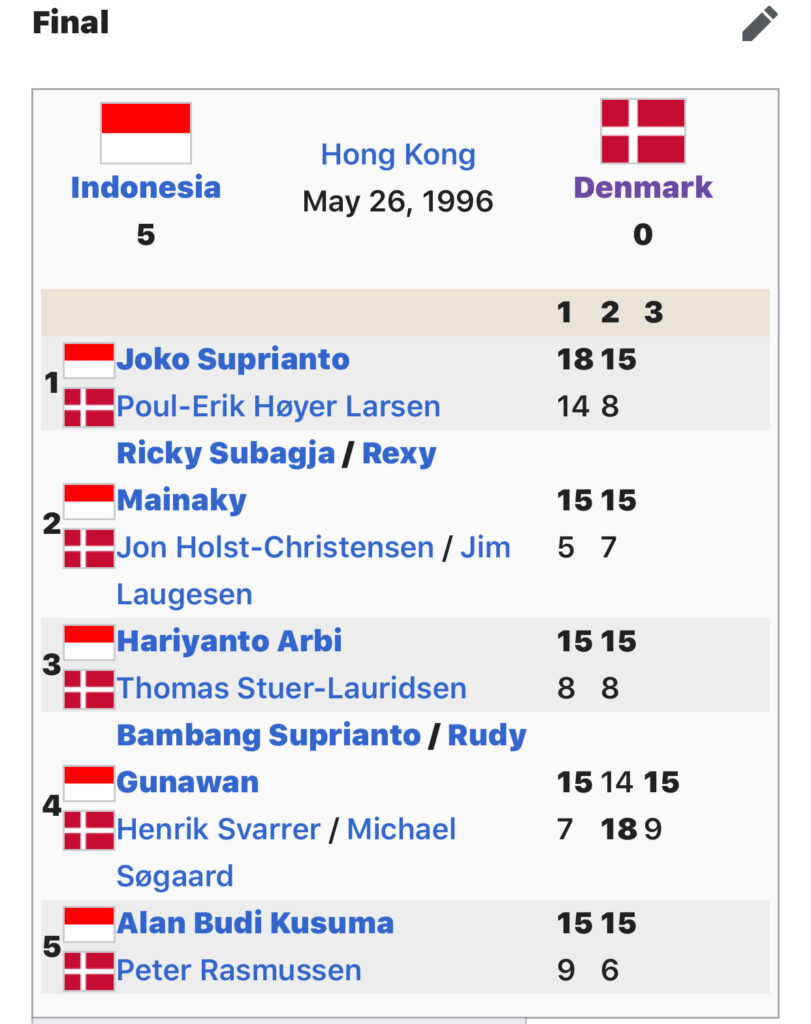 ••••••••••••••••••••••••••••••••••••••••••••••••
FINAL STAGE (Hong Kong)
– alle resultater finalerne.
Group A
Indonesia beat England 5-0; beat China 3-2; beat Sweden 5-0
China beat England 5-0; beat Sweden 5-0
Sweden beat England 4-1
Group B
Denmark beat Korea 3-2; beat Malaysia 4-1; beat Hong Kong 5-0
Korea beat Hong Kong 5-0; beat Malaysia 3-2
Malaysia beat Hong Kong 5-0
SEMI-FINALS
Denmark beat China 3-2
Indonesia beat Korea 3-2

FINALE
INDONESIA (holder) beat Denmark 5-0
"On the men's side, Denmark carried the European flag into the finals with a 3-2 victory over China today.
It took a heroic effort from 1996 All-England champion Poul-Erik Hoyer-Larsen to do so however.
Already down one game to China's Dong Jiong, Hoyer-Larsen came back from a 1-13 deficit to win the second 18-17. He then went on to win
the third 15-11, and the match.
The victory over China catapulted the Danes into the Thomas Cup finals for the first time since 1979.
It was there they suffered an embarrassing 9-0 loss to Indonesia twenty-seven years ago.
They will have the opportunity to avenge that loss this year however, as they once again take on Indonesia in final.
The Indonesians defeated a tough Korea 3-2 to advance.
"We will beat Denmark on Sunday," said a confident 1992 Olympic goldmedalist Allan Budi Kusuma.
Added Indonesian team leader Lutfi Hamid, "We are afraid of the Danes, but we can beat them."
PAUL PAWLACZYK, USBA
••••••••••••••••••••••••••••••••••••••••••••••••
Qualifying Venue
(Prague)
Semi-final Stages
Group W
Denmark beat Austria 5-0; beat Bulgaria 5-0; beat Scotland 5-0
Austria beat Bulgaria 5-0
Bulgaria beat Scotland 3-2
Scotland beat Austria 3-2
Group X
England beat Finland 3-2; beat India 5-0; beat Poland 5-0
Finland beat India 4-1; beat Poland 4-1
India beat Poland 5-0
Group Y
Netherlands beat Belarus 4-1; beat Germany 3-2; beat Russia 3-2
Germany beat Russia 4-1; beat Belarus 5-0
Russia beat Belarus 5-0
Group Z
Sweden beat Canada 4-1; beat Switzerland 5-0; beat Norway 5-0
Canada beat Norway 4-1; beat Switzerland 5-0
Norway beat Switzerland 4-1
SEMI-FINALS
Denmark beat England 5-0
Sweden beat Netherlands 4-1
3/4 PLACE PLAY-OFF
England beat Netherlands 3-2
FINAL
Denmark beat Sweden 4-1
DENMARK, SWEDEN and ENGLAND
qualified for the Finals in Hong Kong.
••••••••••••••••••••••••••••••••••••••••••••••••